The American classic Mac and Cheese (Macaroni and Cheese) is a very popular breakfast, lunch time or an evening snack dish.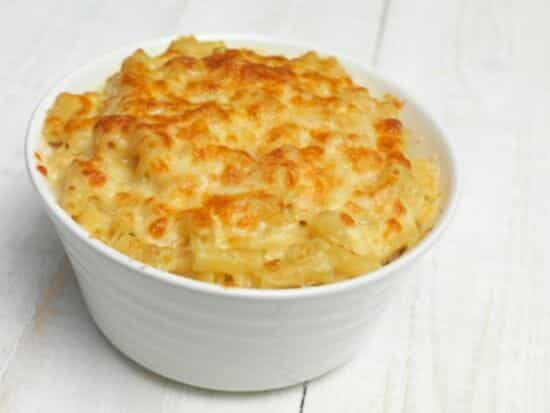 Ingredients:
Macaroni – 1 small packet, boiled in salted water
Cheese Sauce
Breadcrumbs – 3 tblsp
Butter – 1/4 cup
Extra Grated Cheese
For Cheese Sauce:
Butter – 2 tblsp
Onion – 1, chopped (optional)
Flour – 1 tblsp
Milk – 500 ml
Water – 1 cup or more as required
Method:
1. To make the cheese sauce, heat 2 tblsp butter in a pan.
2. Add the chopped onion and cook for 2 minutes.
3. Add 1 tblsp flour, water and milk.
4. Keep stirring till the mixture thickens.
5. To make the macaroni cheese, arrange the cooked macaroni in a baking dish.
6. Pour the cheese sauce over it.
7. Cover with extra grated cheese and breadcrumbs.
8. Dot with butter.
9. Bake in a moderately hot oven till the top is slightly brown.
10. Serve.