A rich and delicious penne pasta in a creamy tomato sauce with vodka. Perfect for those slow weekend lunch or weekday dinners.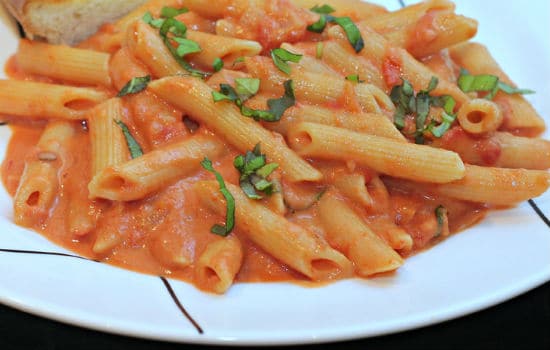 Ingredients:
Penne Pasta – 225 gms
Red Chilli Flakes – 1/2 tsp
Extra-Virgin Olive Oil – 1 1/2 tblsp
Oregano – 1/2 tsp, dried
Tomato Puree – 200 ml
Ripe Tomatoes – 3 to 4, finely chopped
Creamy – 1/2 cup
Vodka – 2 tblsp, unflavoured
Garlic – 4 to 5 cloves, finely sliced
Parmesan Cheese – 1/2 cup + extra for garnish
Salt as per taste
Black Pepper Powder as per taste
Coriander Leaves – few, chopped
Method:
1. Heat a pot of water over medium flame.
2. Add a little salt and 1 tsp oil.
3. Add the pasta and cook until al dente.
4. Drain and keep aside.
5. Heat olive oil in a pan over medium flame.
6. Add garlic, red chilli flakes, oregano and stir-fry for a minute.
7. Add the tomatoes and tomato puree.
8. Cook until the tomatoes are mushy.
9. Add vodka and stir well.
10. Cook for 2 minutes or until the sauce has reduced and thickened.
11. Add the cream, parmesan cheese, salt and black pepper powder.
12. Stir well.
13. Add the pasta and mix until evenly combined.
14. Garnish with coriander leaves and some more grated cheese.
15. Serve at once.
Tip: If you are planning to serve this later, you can garnish it cheese just before serving.