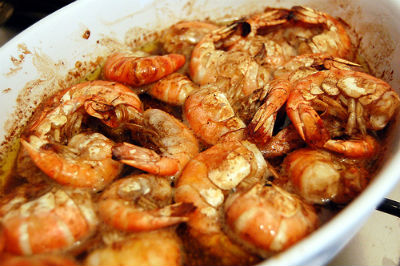 Ingredients:
Prawns – 1 1/2 kg, shelled, deveined
Vinegar – 3 tbsp
Salt to taste
For the Marinade:
Lemon Juice – 4 tsp
Yoghurt – 1 1/4 cups
Cream – 1 cup
White Pepper Powder – 1 1/2 tsp
Cheese – 80 gms, grated
Dry Fenugreek Powder – 2 tsp
Ginger Garlic Paste – 2 tbsp
Garam Masala – 1 ½ tsp
Saffron – a few strands
Butter for basting
Method:
1. Wash the prawns with vinegar and salt water. Drain and pat dry.
2. For the marinade, mix all the ingredients together, rub into the prawns and marinate for 30 minutes.
3. Skewer for 6 to 8 minutes.
4. Remove from tandoor and allow excess marinade to drip off.
5. Baste lightly with butter and roast again for 2-3 minutes.
6. Remove from skewer and serve with mint chutney.