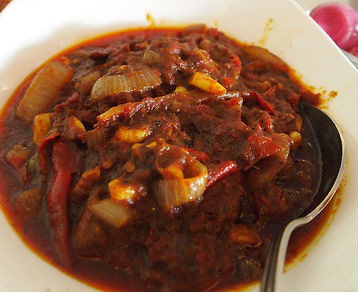 Ingredients:
Lamb – 1 kg, cut into pieces
Oil – 300 ml
Salt to taste
Water – 100 ml
Onions – 1 to 2, chopped
Red Chilli Powder – 4 to 5 tblsp
Method:
1. Heat the oil in a heavy bottomed deep pot.
2. Add the onions and saute for a minute. Now add the lamb, salt and water.
3. Cook covered on a high flame, till it is heated through.
4. Lower the flame and cook for 30 minutes.
5. Ensure the lamb does not stick to the bottom of the pot.
6. Add the red chilli powder and cook till the lamb is tender.
7. Serve hot.