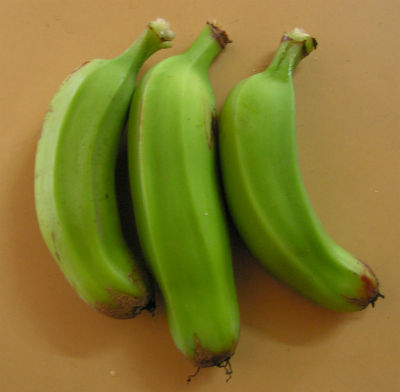 Ingredients:
Raw Bananas – 2
Green Chillies – 4
Coriander Leaves – 1 tblsp, chopped
Juice of 1 Lemon
Salt to taste
For Seasoning:
Oil – 1 1/2 tblsp
Mustard Seeds – 1 tsp
Urad Dal – 1 1/2 tsp
Chana Dal – 1 1/2 tsp
Curry Leaves – 2 sprigs
Method:
1. Boil bananas in their jackets in a pressure cooker.
2. When cool, peel skin and grate the banana in a coarse grater.
3. Cut chillies into 2-3 pieces each.
4. Heat oil, add seasonings in the order given.
5. When dals are golden brown, add grated banana, green chillies, salt and coriander leaves.
6. Fry for 2 minutes, remove from fire.
7. Sprinkle lemon juice and mix thoroughly.
8. Serve hot with rice.