A traditional, delicious and healthy drink with almonds. Often made during festive occasions, these days they can be found at many roadside stalls.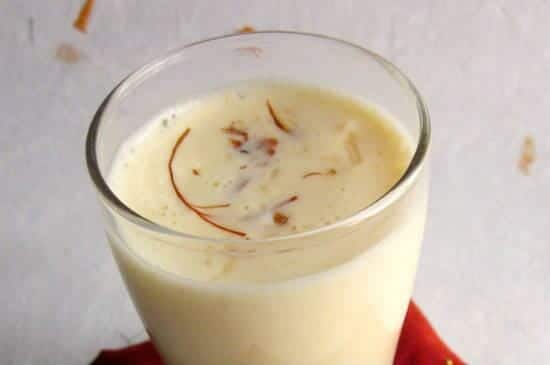 Ingredients:
Almonds – 20 to 25
Milk – 500 ml
Saffron Strands – few
Green Cardamom Powder – 1/4 tsp
Nutmeg – a small pinch, grated (optional)
Sugar – 50 gms
Method:
Heat 1 cup of water in a pan.
Bring to a boil and remove from flame.
Add the almonds and allow them to soak for 5 to 10 minutes.
Drain the water and remove the skinds from the almonds.
Keep aside 5 of the almonds and grind the remaining to a smooth paste.
Finely chop the reserved almonds.
Heat a pan over medium flame.
Add the milk and bring to a boil.
Reduce flame and add the ground almond paste.
Simmer for 10 to 15 minutes.
Add the saffron, cardamom and nutmeg.
Stir well.
Add the sugar and stir until fully dissolved.
Remove and pour into serving glasses.
Garnish with the chopped almonds.
Serve hot or cold.