Ragi Kozhukattai is a healthy variation of the traditional Ganesh Chaturthi Kozhukattai. Ragi is an extremely nutritious grain rich in iron, protein and minerals.  This is a healthy twist to the regular modaks.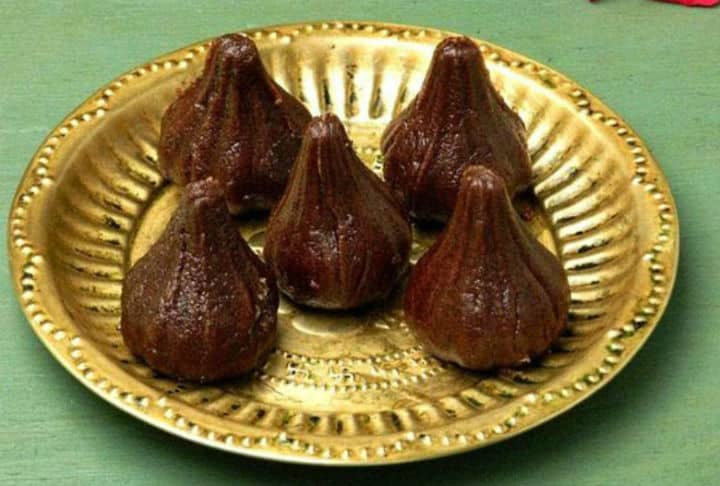 Ingredients:
Ragi Flour –  2 cups
Jaggery – 6 – 8 tblsp
Water as Required
Cardamom Powder – 2 tsp
Ghee – 5 tsp
For the Stuffing:
Grated Coconut – 1 1/2 cups
Sesame Seeds – 2 to 4 tblsp, Roasted
Jaggery  – 1/2 cup
Cardamom Powder –  a pinch
Method:
To prepare the outer shell, heat a pan and add  little water to dissolve the jaggery.
Add the grated jaggery and let it completely dissolve in water .
Filter the jaggery water and keep it aside.
To another pan, add ghee and melt it.
Reduce the flame, add the ragi flour and roast it.
After a nice aroma, switch off the flame and keep it aside.
Heat water in a pan and add them to the ragi flour.
Keep stirring and pour water gradually.
Make sure no lumps are formed.
When the flour turns sticky, add ghee and cardamom powder to it and mix well.
Bring this mixture to boil in low flame to remove excess water.
Cook until the mixture leaves the side of the pan.
Add the jaggery syrup and cook in low flame only.
Keep stirring until the water is absorbed.
Switch off the flame and cover it.
Cool the mixture completely and knead them to a soft dough.
To make the stuffing, add the grated jaggery and water to a pan.
Dissolve them completely and filter them.
Heat it again,add the grated coconut and cardamom powder.
Cook until the mixture turns thick and forms like solid.
Remove from flame and add the roasted sesame seeds.
To make the kozhukattai, from the prepared dough, make small balls and flatten them.
Keep the stuffing inside and seal them.
Steam them in the idly steamer for 10 minutes.
Do not over them since the ragi flour is already cooker well.
Serve them hot.