Dive into the crispy goodness of Ridge Gourd Bajji! A snack that is spicy and crunchy, perfect with chutney or ketchup.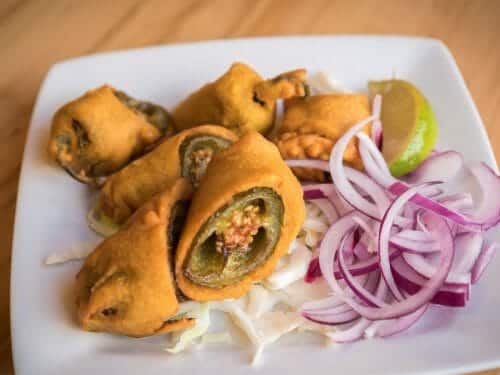 Discover a delightful way to enjoy Ridge Gourd with our tempting Ridge Gourd Bajji recipe. These golden-brown fritters are a crispy revelation, offering a perfect blend of flavours and textures. The tender Ridge Gourd is coated in a spiced batter and deep-fried to perfection, resulting in a satisfying crunch with each bite.
With a touch of carom seeds, ginger-garlic paste, and aromatic spices, this snack showcases the traditional flavours of Indian cuisine. The batter's crispiness perfectly complements the softness of Ridge Gourd, creating an addictive contrast that's hard to resist.
Are you looking for an exciting appetizer for gatherings or a snack for a cosy evening? Ridge Gourd Bajji is your answer! Its unique taste will leave everyone asking for more. Pair it with tangy chutney or zesty ketchup for an explosion of flavours that will leave your taste buds dancing.
This recipe is a testament to the versatility of Ridge Gourd, proving that it can be much more than just an ingredient in curries. If you're a fan of crispy snacks and traditional Indian flavours, Ridge Gourd Bajji will undoubtedly become a favourite.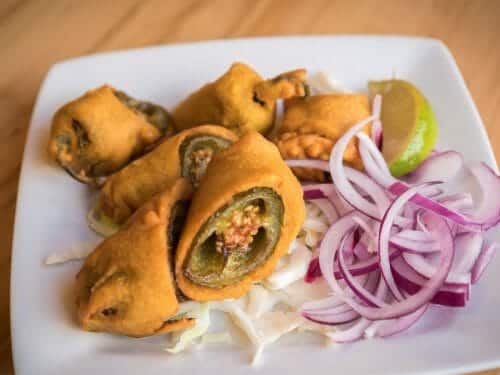 Ridge Gourd Bajji
Dive into the crispy goodness of Ridge Gourd Bajji! A snack that is spicy and crunchy, perfect with chutney or ketchup.
Ingredients
Ridge Gourd (Heerekai/Peerkangai - 1, peeled)

1

cup

Bengal Gram Flour

1/2

cup

Rice Flour

1

tsp

Red Chilli Powder

1

tsp

Ginger Garlic Paste

Asafoetida (pinch)

Turmeric Powder (pinch)

Carom Seeds (Omam - 1/2 tsp)

Oil for frying

Salt (as per taste)
Instructions
Slice the Ridge Gourd into medium rounds or sticks.

In a bowl, mix Bengal Gram Flour, Rice Flour, asafoetida, carom seeds, ginger-garlic paste, salt, and turmeric powder.

Gradually add water and mix until a thick, pourable batter forms.

Heat oil in a deep frying pan over medium heat.

Dip Ridge Gourd slices in the batter, then carefully place them in the hot oil.

Fry until the bajjis turn golden brown, then remove and drain excess oil on a kitchen towel.

Serve the hot and crispy Ridge Gourd Bajjis with your favourite chutney or ketchup.
Serving Size: 4 servings
Frequently Asked Questions (FAQ):
Can I use other vegetables for this recipe?
Certainly! This batter works well with various vegetables like onion, potato, and eggplant. Try Potato Bajji or Onion Bajji for a tasty variation.
How can I make the bajjis less spicy?
If you prefer milder spice, reduce the amount of red chilli powder. You can also serve them with a cooling mint yoghurt dip to balance the heat.
What are some suggested dipping sauces for these bajjis?
These bajjis pair perfectly with classic mint chutney, tangy tamarind chutney, or even a zesty tomato ketchup. Enjoy the contrast of flavours!
Can I make the batter ahead of time?
For the best results, it's recommended to prepare the batter just before frying. This ensures the bajjis are crisp and delicious.