Elevate Your Meal with Flavorful Green Brinjal Curry!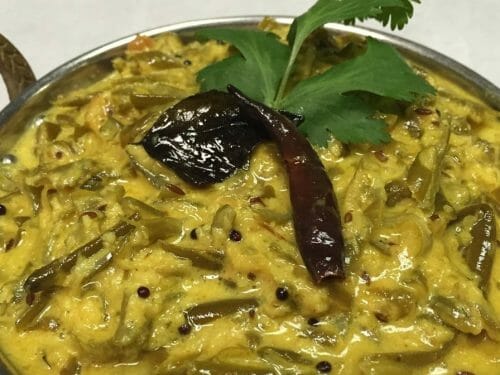 Experience a symphony of flavours in every spoonful with our tantalizing Green Brinjal Curry recipe. This curry celebrates vibrant ingredients, combining the earthy goodness of green brinjals, the fiery kick of green chillies, and the aromatic freshness of mint leaves. With a medley of spices and a touch of tamarind, this dish is a journey for your taste buds that you won't want to miss.
The magic begins as coriander seeds, cashew nuts, onions, ginger-garlic paste, and green chillies sizzle in the pan. The resulting aromatic blend is ground with a handful of refreshing mint leaves, forming the heart of the curry. The kitchen is filled with enticing aromas as you sauté the brinjal pieces with turmeric, ginger-garlic paste, and curry leaves.
The amalgamation of flavours continues as the ground paste and tamarind extract come together harmoniously, creating a rich and luscious gravy. This curry is a true testament to the culinary finesse of Indian cuisine, showcasing the depth and complexity achieved with simple ingredients.
Whether you enjoy this curry with fluffy rice or soft chapatis, every bite promises a burst of flavours that will leave you craving more. Green Brinjal Curry is not just a meal; it's an experience that transports you to the heart of traditional Indian kitchens, where every dish is created with love and passion.
For those who appreciate the art of combining spices and savouring authentic flavours, Green Brinjal Curry is a must-try. If you want to expand your culinary repertoire, this dish is a delightful introduction to the world of curries, offering a balance of heat, tanginess, and sheer deliciousness.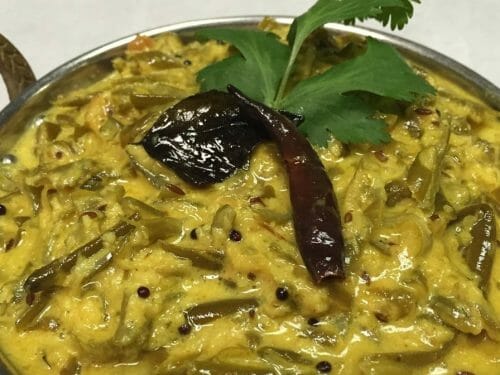 Green Brinjal Curry
Elevate Your Meal with Flavorful Green Brinjal Curry!
Ingredients
10

pcs

Green Brinjal

6

pcs

Green Chilli

1

cup

Mint Leaves (Pudhina)

3

tsp

Ginger Garlic Paste

1

tsp

Coriander Seeds - 1 tsp

2

cups

Onion (chopped)

10

pcs

Cashew nuts

1

cup

Tamarind Extract

1

tsp

Turmeric Powder

Salt (as per taste)
Instructions
Heat oil in a pan.

Add coriander seeds, cashew nuts, 1 cup of chopped onions, 2 tsp of ginger-garlic paste, and 5 green chillies.

Fry for 45 seconds, then grind with a handful of mint leaves. Set aside the ground paste.

In another pan, heat oil.

Cut each brinjal into 4 pieces and add to the pan.

Add turmeric powder, one green chilli, 1 tsp of ginger-garlic paste, and curry leaves.

Fry for a while.

Add the remaining chopped onions and tamarind extract, and let it boil.

Heat oil in a separate pan.

Add the groundpaste and fry.

Add a bit of water and simmer for 10 minutes.

Combine the brinjal mixture, add salt, and cook for 10-15 minutes.

Serve the piping-hot Green Brinjal Curry with plain rice or chapati.
Serving Size: 4 servings
Frequently Asked Questions (FAQ):
Can I adjust the spiciness of this curry?
Absolutely! You can control the spiciness by altering the number of green chillies used. Reduce the chillies or remove the seeds before adding them for a milder version.
What can I pair with Green Brinjal Curry?
This curry pairs beautifully with steamed rice, fluffy chapatis, or crusty bread. Its rich flavours also complement dishes like Cumin Rice or Roti.
Can I make this curry ahead of time?
Certainly! Curries like this tend to develop even more flavour when allowed to sit for a few hours or overnight. Just reheat gently before serving to enjoy the full taste.
Is there a vegan version of this curry?
Just skip the cashew nuts or replace them with a dairy-free alternative like almonds or coconut cream. You'll still enjoy a creamy and delectable curry.
How can I make the curry less tangy?
You can adjust the amount of tamarind extract used to reduce the tanginess. Start with a smaller quantity and gradually add more if needed, tasting as you go.