Elevate your salad game with the Prawn and White Bean Salad – a delightful mix of plump prawns, tender beans, and a refreshing lemony twist.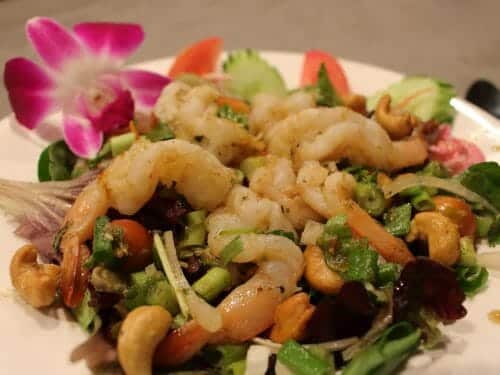 A culinary masterpiece that effortlessly combines the ocean's bounty with the wholesome heartiness of beans – the Prawn and White Bean Salad. This recipe is a compelling journey of textures and tastes, where plump, succulent prawns dance alongside tender haricot beans to create a symphony on your plate.
The star of this dish is undoubtedly the prawns, cooked to perfection and peeled, showcasing their irresistible flavour. Add the creamy richness of haricot beans; the combination is satisfying and refreshing. The white beans provide a velvety backdrop that perfectly complements the succulence of the prawns.
Enhancing this delectable duo is the invigorating citrus kick from the lemon juice. The lemon brightens the flavours and adds a burst of freshness that elevates the dish to a new level. A hint of garlic, finely chopped, and extra virgin olive oil form a harmonious dressing, infusing every bite with a balanced richness.
The Prawn and White Bean Salad isn't just a dish; it's a culinary experience that awakens your taste buds. It's a celebration of contrasts – the tender beans and juicy prawns, the creamy and zesty flavours, and the crunch of celery and tomatoes that intertwine to create a dance of textures and tastes.
An exceptional standalone meal, this salad can also be a remarkable companion to other dishes. Consider pairing it with grilled seafood for a maritime feast or serving it alongside crusty bread and a selection of cheeses for a balanced spread. If you enjoy vibrant salads that tantalize your palate, you might also want to explore recipes like "Mango Avocado Salad" or "Citrus Shrimp Salad.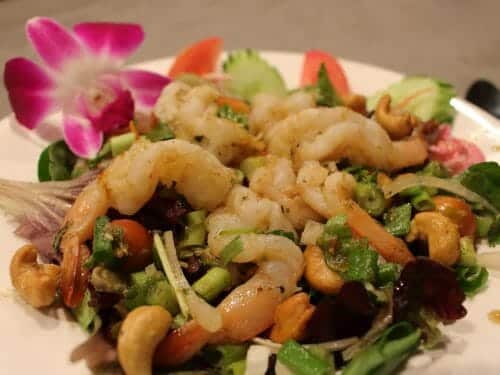 Prawn and White Bean Salad

Recipe

Elevate your salad game with the Prawn and White Bean Salad – a delightful mix of plump prawns, tender beans, and a refreshing lemony twist.
Ingredients for
Prawn and White Bean Salad
400

g

Haricot Beans (drained and rinsed)

1/2

Red Onion (finely chopped)

1

Celery Stick (finely diced)

300

g

Large Prawns (cooked and peeled, tails intact)

1

clove

Garlic (finely chopped)

Juice of 1 Lemon

5

tbsp

Extra Virgin Olive Oil

2

tbsp

Fresh Flat-Leaf Parsley (chopped)

4

thick slices of Country Bread

85

g

Baby Plum Tomatoes (halved)

Handful of Fresh Flat-Leaf Parsley Leaves

Salt and Pepper
How to make
Prawn and White Bean Salad
In a large shallow bowl, combine beans, chopped onion, diced celery, prawns, and finely chopped garlic.

Add lemon juice, 2 tbsp of olive oil, and chopped parsley. Season lightly with salt and pepper. Stir well, then cover and set aside.

Brush bread slices with some remaining olive oil and cook on a hot griddle for 2 minutes on each side until golden. Place on serving plates.

Gently stir tomatoes and parsley leaves into the salad.

Pile the salad onto the hot toast.

Drizzle the remaining olive oil over the salad, season with a touch more pepper, and serve.
Serving Size: 4 servings
Frequently Asked Questions:
Can I use other types of beans in this salad? 
Absolutely! While haricot beans are traditional, you can experiment with other beans like cannellini or navy beans for a delightful twist.
Can I substitute prawns with chicken or tofu? 
Certainly! Grilled chicken or marinated tofu can be fantastic alternatives, offering different flavours and textures while still pairing beautifully with the beans and lemony dressing.
Can I make the salad ahead of time? 
While the salad is best enjoyed fresh, you can prepare the individual components in advance and assemble them just before serving to maintain the delightful textures.
What can I serve with this salad for a complete meal? 
This salad pairs wonderfully with grilled seafood, like seared scallops or a light fish dish. For a vegetarian option, consider pairing it with a quinoa-stuffed pepper or a side of hummus and pita.
Can I use different herbs in the dressing? 
While parsley adds a fresh touch, you can experiment with other herbs like dill, chives, or basil to create your own unique flavour profile.