A simple, delicious and easy to make salad for lunch or dinner.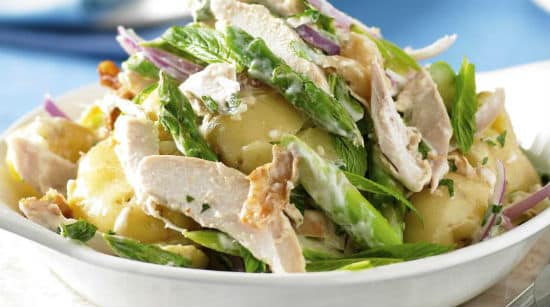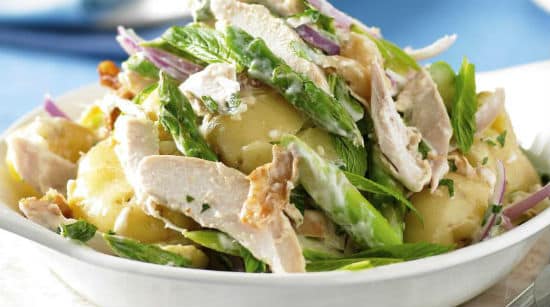 Ingredients:
Chicken – 1 1/2 cups, cooked, skinless, boneless
Baby Potatoes – 400 gms
Mayonnaise – 1/4 cup
Dijon Mustard Paste – 3/4 tblsp
Lemon Juice – 3 tsp
Onion – 1, small, cut into wedges
Mint Leaves – handful
Method:
1. Shred the chicken and keep aside.
2. Cook the potatoes in boiling hot water with little salt.
3. Drain well, peel the skin and lightly mash the potatoes.
4. Transfer to a big bowl.
5. Mix the mustard paste, lemon juice and mayonnaise in a bowl.
6. Add the shredded chicken, onions, mint leaves and mayonnaise mixture to the potatoes.
7. Gently mix well.
8. Transfer to a serving bowl.
9. Garnish with some mint leaves.
Tip: Instead of mustard paste, you can use sour cream or horseradish cream.