Kozhukattai (or Modak) is a popular sweet made during Ganesh Chaturthi. There are various types of kozhukattais available depending on which part of India you are in. This is a sweet variation made with coconut and jaggery.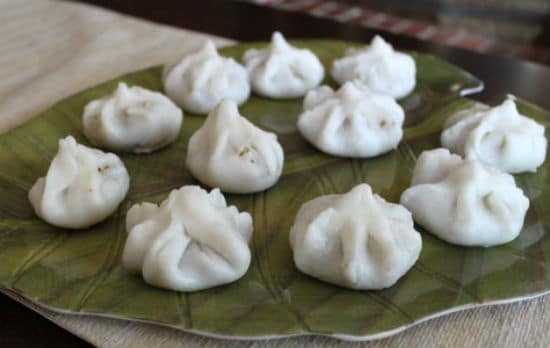 Ingredients:
Powdered Jaggery – 1/2 cup
Cardamom Powder – 1/2 tsp
Grated Coconut – 1/2 cup
Rice Flour – 1 cup
Water – 1 cup
Salt – a pinch
Gingelly Oil – 2 tsp
Method:
1. Heat a pan over medium flame.
2. Add the jaggery, cardamom powder and coconut.
3. Stir to mix well.
4. After 2 minutes switch off the flame and remove the pan.
5. Allow it cool and make small balls. Keep aside.
6. Heat water in a pan and bring to a boil over medium flame
7. Mix rice flour, salt and gingelly oil in another pan.
8. Gradually add the boiled water and mix well.
9. Make small cups of this mixture.
10. Into each cup, add one of the prepared jaggery balls.
11. Fold well and seal tightly.
12. Steam cook the prepared kozhukattais in a idli plate for 10 to 15 minutes.
13. Remove and serve.