A very popular chicken snack/starter/appetizer recipe from South India. Bite-sized chicken pieces are marinated and deep fried.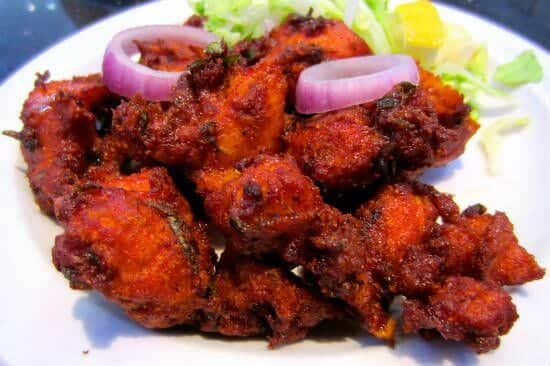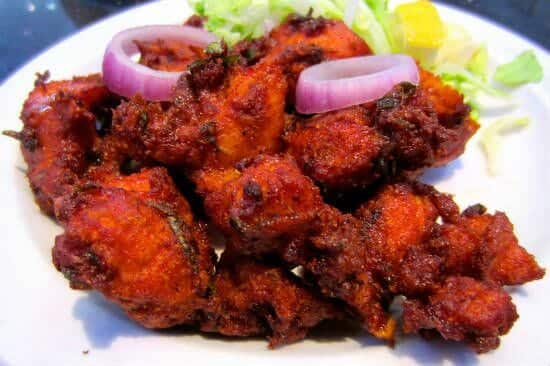 Ingredients:
Chicken – 500 gms, cut into small pieces
Red Chilli Powder – as per taste
Coriander Powder – 3 tblsp
Turmeric Powder – 1/2 tsp
Curd – 3 to 4 tblsp
Curry Leaves – 6 to 8
Green Chillies – 4
Tomato Ketchup – 4 tblsp
Oil
Salt as per taste
Method:
1. In a bowl, mix chilli powder, coriander powder, turmeric powder, curd and salt.
2. Marinate the chicken pieces with this and keep aside for 4 hours or overnight.
3. Heat oil in a deep pan and shallow fry the chicken pieces till cooked.
4. Remove and heat the chicken pieces in a separate pan without oil over medium flame.
5. Add the green chillies, curry leaves and ketchup.
6. Mix well till the chicken pieces are well coated.
7. Continue to cook over medium heat.
8. Remove and serve as a snack or with roti and chappatis.
Tip: If you want it to be a little gravy, add 1/2 cup of hot water mixed with little red chilli powder after step 7 and cook till gravy becomes thick.