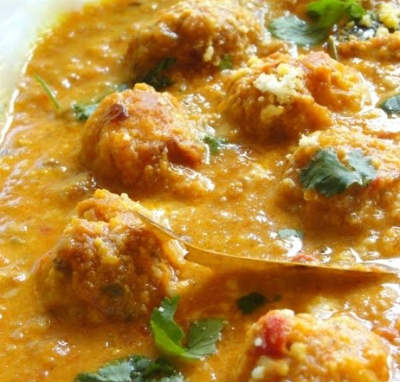 Ingredients:
Tomatoes – 375 gms
Water – 175 ml
Ginger – 1 two inch piece, peeled, julienned
Green Chillies – 2, small, slit
Tomato Puree – 1 tblsp
Red Chilli Powder – 1 tsp
Butter – 30 gms
Salt – 3/4 tsp
Honey – 1 tblsp (optional)
Dried Fenugreek Leaves – 1 tsp, crushed
Cream – 1/4 cup
Ghee – 1 tblsp
Cinnamon – 1 one inch stick
Cardamoms – 4
Bay Leaf – 1
Ginger Garlic Paste – 2 tblsp
For the koftas:
Potatoes – 250 gms, boiled, mashed
Paneer – 50 gms, crumbled
Carrot – 1/4 cup, finely chopped
Green Chilli – 1, finely chopped
Corn Flour – 3/4 tblsp, mixed with 1 tblsp water
Oil for deep frying
Salt as per taste
Method:
1. To make the koftas, mix the potatoes, paneer, carrot, green chilli, corn flour and salt in a bowl.
2. Mix well and shape them into small balls.
3. Heat oil for deep frying.
4. Deep fry the prepared balls until golden brown.
5. Remove and drain excess oil.
6. Keep aside.
7. Heat ghee in a pan.
8. Fry the cinnamon, bay leaf and cardamoms for 45 seconds.
9. Add the ginger-garlic paste and fry for a minute.
10. Add the tomatoes, water and salt.
11. Boil until tomatoes become pulpy.
12. Strain the mixture and discard the pulp and spices.
13. Heat butter in an another pan.
14. Fry the ginger and green chillies for 30 seconds.
15. Add the strained tomato gravy, tomato puree, honey, fenugreek leaves and red chilli powder.
16. Simmer for 5 minutes.
17. Add cream and mix well.
18. Just before serving, add the koftas and serve with rice, roti or on its own as a snack.