Adai is a popular South Indian breakfast and dinner dish. Similar to a dosa, it is slightly thicker and is equally filling. Commonly served with Aviyal as "Adai Aviyal", you can serve it with any chutney or sambar or milagai podi.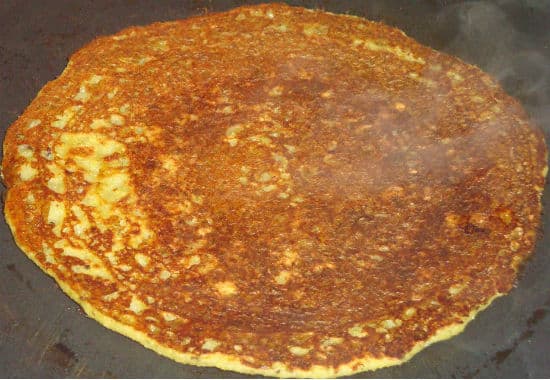 Ingredients:
Raw Rice – 2/3 cup
Toor Dal – 2/3 cup
Moong Dal – 2/3 cup
Bengal Gram Dal – 2/3 cup
Urad Dal – 1/3 cup
Dry Red Chillies – 7 to 8
Curry Leaves – 1 big handful
Shallots (Sambar Onions) – 15 to 20, depending on size
Garlic – 15 to 20, depending on size, chopped
Asafoetida Powder – 1/2 tsp
Turmeric Powder – 1/2 tsp
Salt as per taste
Method:
1. Combine the rice and dals together.
2. Soak them for 60 minutes.
3. Drain well.
4. Add curry leaves, red chillies and grind to a thick batter.
5. Add the chopped onions, turmeric powder, salt, garlic and asafoetida powder.
6. Mix well.
7. Heat a tawa (flat frying pan) over medium flame.
8. Pour a ladleful of the batter and spread evenly.
9. Apply oil around the edges and cook on both sides until light golden brown.
10. Remove and serve hot with chutney and sambar of choice.