Adai is a popular and traditional South Indian breakfast/evening dish. Often served with chutney and sambar of choice, they are similar to a Dosa but slightly thicker and heavier.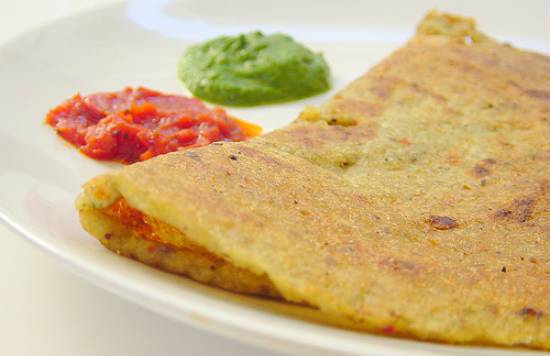 Ingredients:
Godhumai Rava (Wheat Rava) – 2 cups
Toor Dal – 2 1/2 tblsp
Bengal Gram Dal – 1 1/4 tblsp
Urad Dal – 2 tsp
Dry Red Chillies – 4 to 5
Oil – 2 to 3 tblsp
Salt as per taste
For Tempering:
Mustard Seeds
Curry Leaves
Asafoetida Powder
Method:
1. Soak the toor dal, bengal gram dal and urad dal with the red chillies for 1 hour.
2. Soak the wheat rava for 1 hour, separately.
3. Add salt to the dals and grind to until coarse.
4. Add the wheat rava and grind to a semi-coarse batter.
5. Heat oil in a pan.
6. Fry the tempering ingredients and add to the batter.
7. Mix well.
8. Heat a tawa over medium flame.
9. Pour a ladleful of the batter and spread evenly.
10. Apply oil around the edges and cook on both sides until golden brown and crisp.
11. Serve hot with chutney and sambar of choice.