Adai is a traditional South Indian dish often served for breakfast or evening tiffen. Ragi Adai is a healthy variation of the regular adai and is very good for the health.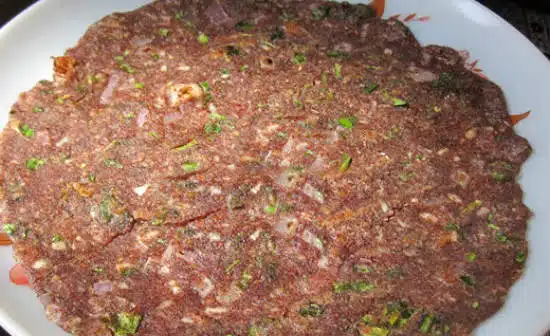 Ingredients:
Ragi flour – 2 cups
Whole wheat flour – 1/4 cup
Rice flour – 1/4 cup
Onion – 2 medium sized, finely chopped
Grated fresh coconut – 1/2 cup
Green chillies, finely chopped – 4
Grated ginger – 1 inch piece
Coriander leaves – 2 tbsp, finely chopped
Curry leaves – 1 sprig
Salt – 1 1/2 tsp or to taste
Banana leaf – 1
Oil for shallow frying
Method:
1. Except the last two, combine all the ingredients in a bowl.
2. Add 3/4 to 1 cup of water and knead well to a soft, pliable dough.
3. Wilt the banana leaf over low flame for a few seconds and apply oil.
4. Using greased fingers, pinch a large lemon sized ball of dough and pat well to form a medium sized adai on the banana leaf.
5. Lift it carefully and place it on a hot tawa over medium flame.
6. If the adai is sticking to the banana leaf, then place the banana leaf with the adai on to the hot tawa. When it starts to cook, the leaf can be peeled off easily.
7. Apply oil around the edges and cook on both sides until done.
8. Repeat for all the remaining dough.
9. Serve hot or warm with coconut chutney.