A delicious breakfast adai recipe with Banana Flower (Vazhaipoo).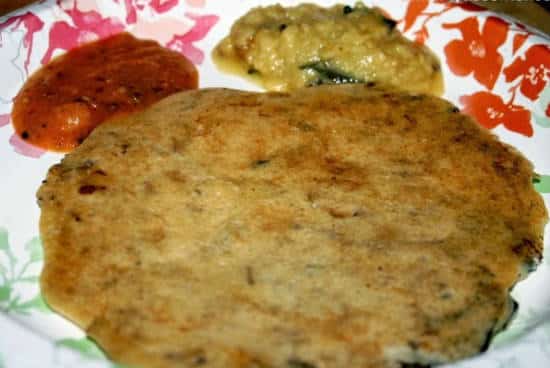 Ingredients:
Vazhaipoo (Banana Flower) – 2 cups, finely chopped
Parboiled Rice – 4 cups
Toor Dal – 3/4 cup
Urad Dal – 1/3 cup
Bengal Gram Dal – 1/3 cup
Asafoetida Powder – 1/2 tsp
Dry Red Chillies – 8 to 10
Mustard Seeds – little
Curry Leaves – few
Coriander Leaves – few
Oil – 1 cup
Salt as per taste
Method:
1. Soak the rice and dals, separately, for 1 hour.
2. Combine them together with red chillies, salt and asafoetida powder.
3. GRind them to a coarse batter.
4. Fry the mustard seeds and curry leaves in little oil.
5. Add to the batter and mix well.
6. Heat 3 to 5 tblsp of oil in a pan.
7. Saute the vazhaipoo for 2 to 3 minutes.
8. Add to the batter and mix well.
9. Heat a tawa over medium flame.
10. Pour a ladleful of the batter and spread evenly.
11. Apply oil around the edges and cook on both sides.
12. Sprinkle coriander leaves and remove from flame.
13. Serve with butter and chilli powder.
Tip: If desired, you can also add chopped onions at step #7.