Adai is a popular South Indian breakfast/evening tiffen dish. Popularly served with avial, Adai is similar to Dosa but slightly thicker and heavier. This variation is made with finely chopped raw bananas. Can be served with sambar, chutney or avial.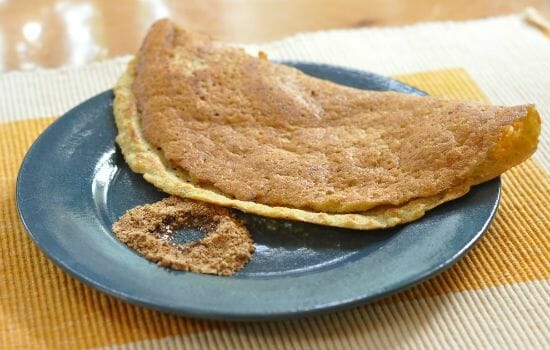 Ingredients:
Vazhakkai (Raw Bananas) – 2
Rice – 4 cups
Urad Dal – 1 cup
Toor Dal – 1 cup
Bengal Gram Dal – 1/2 cup
Dry Red Chillies – 6 to 8
Green Chillies – 4 to 5
Salt as per taste
Asafoetida Powder – little
Curry Leaves – few
Oil as required
Method:
1. Soak the rice, dals, red chillies and green chillies together for 4 to 6 hours.
2. Add salt and asafoetida powder.
3. Grind to a thick, smooth batter.
4. Add the curry leaves and mix well.
5. Keep aside for ferment for 6 hours or preferably overnight.
6. Peel the bananas and chop finely.
7. Heat a little oil in a pan over medium flame.
8. Saute the bananas for 30 seconds or until the raw smell disappears.
9. Add this to the batter and mix well.
10. Heat a nonstick tawa over medium flame.
11. Pour a ladleful of the batter and spread evenly.
12. Apply oil around the edges and cook on both sides until light golden brown.
13. Remove and serve hot with chutney and sambar of choice.