These classic, delicious and simple to make snacks are made with shredded coconut, condensed milk and egg whites. Perfect for a teatime treat or an evening after-school snack, they can also be served as a dessert.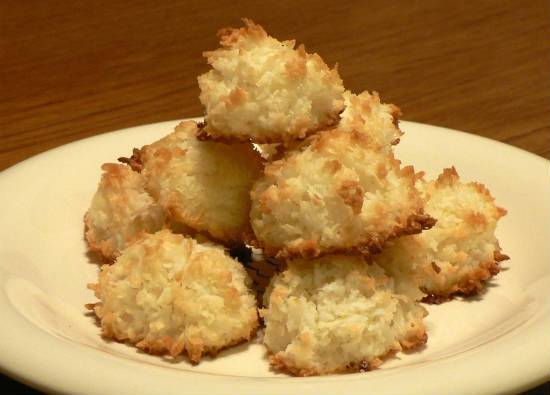 Ingredients:
Coconut – 200 to 225 gms, shredded
Egg Whites – 3 medium or 2 large
Sugar – 2 2/3 tblsp
Vanilla Extract – 1 1/2 tsp
Sweet Condensed Milk – 1 1/2 tblsp
Butter as required
Method:
1. Mix the shredded coconut, egg whites, sugar, vanilla extract and condensed milk in a bowl.
2. Mix well until fully combined.
3. Butter a baking tray and keep it aside until required.
4. Make small balls of the dough and place them on the greased tray.
5. Gently flatten them using the palm of your hands.
6. Place the tray into a preheated oven at 300F/150C for about 30 to 40 minutes until the edges are golden brown.
7. Remove and cool.
8. Store in an airtight container.
9. Serve as a dessert or teatime snack.