A delicious and healthy South Indian adai variety. Perfect for breakfast, evening snack or dinner.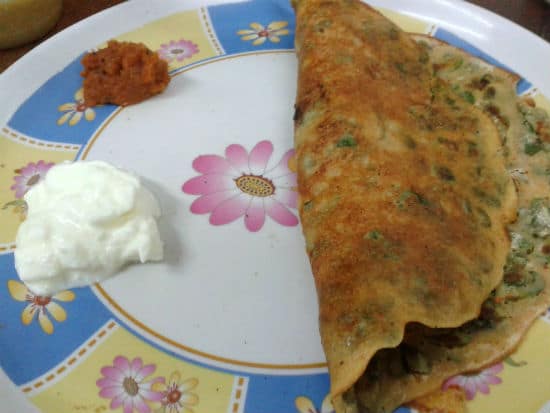 Ingredients:
Parboiled Rice – 1 1/2 cups
Toor Dal – 1/3 cup
Chana Dal (Bengal Gram Dal) – 1/3 cup
Urad Dal – 1/3 cup
Garlic – 2 to 3 cloves
Ginger – a small piece, peeled
Curry Leaves – handful
Coriander Leaves – handful
Drumstick Leaves – 3 cups, chopped
Red Chillies – 4
Green Chillies – 4
Asafoetida – 1 small piece
Onion – 1, finely chopped
Salt to taste
Oil for frying
Method:
1. Soak rice and dals separately overnight.
2. Grind rice for a while. Add the dals, garlic, ginger, red chillies, curry leaves, coriander leaves, green chillies, asafoetida and salt.
3. Grind to a rough batter.
4. Add enough water to make a pouring consistency.
5. Wash drumstick leaves, discard all stems, chop finely and add to the batter.
6. Add the onions and mix well.
6. Heat a tawa, grease with some oil, pour a large ladleful of batter onto tawa and quickly spread it into a circle.
7. Pour oil all around and in the centre.
8. If you want the adai to be crisp, carefully turn over and cook the other side, pouring 1-2 tsp more oil while cooking on high flame.
9. Serve hot with coconut/onion chutney or curd or aviyal.
Tip: You can also add the drumstick leaves after step #7. Sprinkle 2-3 tblsp of drumstick leaves all over adai, cover and cook over medium heat till done.