These delicious muffins are a perfect way to use up any ripe bananas and they make a great teatime/breakfast snack too.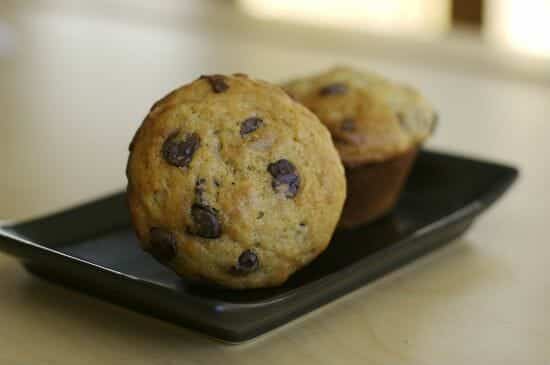 Ingredients:
Maida (Plain Flour) – 1 cup
Baking Soda – 1/3 tsp
Sea Salt – 1/3 tsp
Butter – 1/3 cup, unsalted
Sugar – 1/3 cup
Egg – 1
Vanilla Extract – 1/3 tsp
Ripe Banana – 1, large, peeled, mashed
Buttermilk – 1/3 cup
Chocolate Chips – 2 tblsp, for sprinking on top
You will also need:
Muffin Tin lined with paper cups
Method:
1. Mix the flour, salt and baking soda in a bowl.
2. Mix well and keep aside.
3. Beat the butter and sugar together until light and fluffy.
4. Add the egg and vanilla extract.
5. Add the mashed banana, buttermilk and mix.
6. Add the flour mixture to this and mix until evenly combined.
7. Fill the muffin cups until 3/4ths and sprinkle the chocolate chips on top.
8. Place it in a preheated oven at 350F/175C.
9. Bake for 20 to 25 minutes or until a skewer/toothpick inserted into the center comes out clean.
10. Remove and cool taking them out of the tin.
11. Store in an airtight container.