A delicious and flavourful vegetarian biryani dish with tofu, onions, tomatoes in a spicy yogurt gravy. Ideal for weeknight dinner or for any occasion. Serve with raita.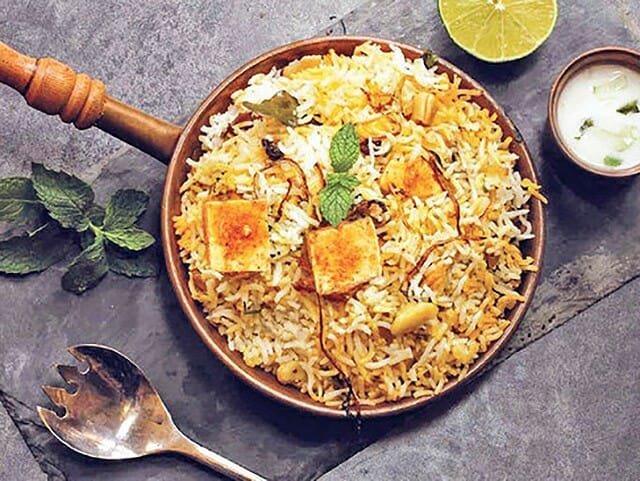 Ingredients:
Tofu – 800 gms, extra-firm, diced (available readymade)
Plain Yogurt – 2 cups
Saffron Strands – 2 tsp, soaked in 1/2 cup milk for 30 minutes
Onions – 3 to 4, sliced
Tomatoes – 3 to 4, chopped
Basmati Rice – 2 cups, washed, cooked
Ginger Garlic Paste – 2 to 3 tsp
Green Chillies – 4 to 5, chopped
Coriander Leaves – 2 cups, chopped
Mint Leaves – 1 cup, chopped
Garam Masala Powder – 1/4 cup
Red Chilli Powder – 2 tsp
Turmeric Powder – 2 tsp
Oil as required
Salt as per taste
Raisins – 1/2 cup
Method:
1. Grind together the ginger garlic paste, green chillies, coriander leaves and mint leaves to a fine paste.
2. Transfer to a large bowl.
3. Add the garam masala powder, red chilli powder, turmeric powder and plain yogurt.
4. Mix well.
5. Heat little oil in a nonstick pan over medium flame.
6. Stir-fry the tofu pieces until golden and add to the yogurt mixture.
7. Mix well.
8. Cover and keep the bowl in the fridge for 2 to 4 hours.
9. Heat oil in a large heavy-bottomed pan over medium flame.
10. Saute the onions until light golden brown.
11. Remove the onions and keep aside.
12. Add the tomatoes and little salt.
13. Cook for 2 minutes.
14. Add the tofu with the marinade and the reserved onions.
15. Stir well and cook for 5 to 8 minutes.
16. Cover the pan with a lid and cook for 2 minutes.
17. Add the cooked rice and mix well.
18. Pour the saffron mixture and stir until combined.
19. Cover and cook for another 5 minutes.
20. Remove from flame, garnish with the raisins and stir gently.
21. Serve with raita.