Kothu Parotta is a very famous street food snack across TamilNadu. These can be made with fresh or left-over parottas and comes with both vegetarian and non-vegetarian varieties. While there are many regional flavours to this dish, the Madurai Kothu Parotta is one of the most popular amongst them all.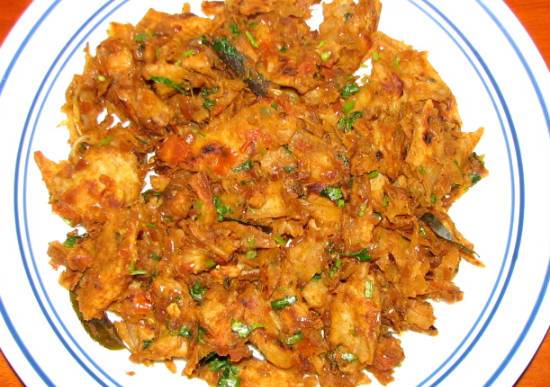 Ingredients:
Maida (Plain Flour) – 2 cups
Plain Milk – 1 cup
Onions – 3 to 4, finely chopped
Tomatoes – 2, finely chopped
Green Chillies – 3 to 4, finely chopped
Mixed Vegetables – 2 cups, finely chopped
Red Chilli Powder – 2 tsp
Saunf Powder – 1 tsp
Coriander Powder – 2 tsp
Curry Leaves – few, chopped
Oil – 1 tblsp + extra
Salt as per taste
Coriander Leaves – handful, chopped
Method:
1. Mix the flour, salt and milk in a large bowl.
2. Knead well to make a stiff, pliable dough and keep aside for 30 to 45 minutes.
3. Make small/medium balls of the dough and roll them to a thin parotta.
4. Heat oil in a tawa and cook the prepared parootas on both sides, adding little oil around the edges.
5. Chop the parottas into small pieces and keep aside.
6. Heat oil in a pan over medium flame.
7. Saute the onions, green chillies and curry leaves for 5 minutes.
8. Add the tomatoes, red chilli powder, coriander powder and saunf powder.
9. Cook for 5 to 8 minutes, stirring from time to time.
10. Add the mixed vegetables and sprinkle a little water.
11. Cover and cook for another minutes or until the vegetables are cooked.
12. Add the chopped parottas, stir well and cook for 3 to 5 minutes.
13. Garnish with coriander leaves.
14. Serve warm with salna.
Subscribe to our Newsletter
Receive the latest recipes & kitchen tips !