Brinjal Rasavangai is a popular South Indian dish made with brinjals. It is similar to the sambar and the difference lies in the spices used to make them. Depending on which part of South India you go, this is served either as a kootu or as a sambar. Serve hot with rice and side dish of choice.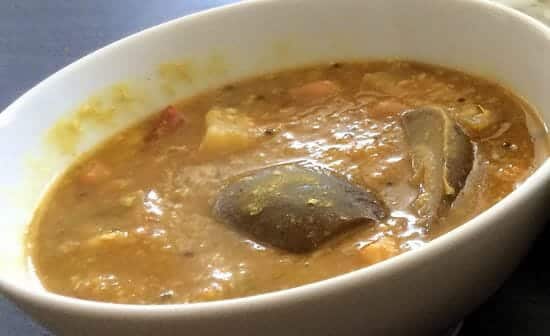 Ingredients:
Toor Dal – 1/2 cup
Tamarind – marble sized ball
Green Chillies – 2, slit lengthwise
Tomato – 1, small, chopped
Brinjals – 150 gms, quartered
Salt to taste
Turmeric Powder – 1/2 tsp
Sambar Powder – 1/2 tsp
Jaggery – 1 tblsp, powdered
Coriander Leaves – small bunch, chopped fine for garnishing
For the Spice Paste:
Oil – 1 tsp
Coriander Seeds – 1 1/2 tblsp
Dry Red Chillies – 2
Asafoetida Powder – 1/2 tsp
Fresh Coconut – 4 tblsp, grated
For Tempering:
Ghee – 2 tsp
Mustard Seeds – 1 tsp
Dry Red Chilli – 1, halved
Curry Leaves – few
Method:
1. Pressure cook the dal and set aside.
2. Soak the tamarind in 1 cup water and extract the juice.
3. Fry in 1 tsp oil the coriander seeds, red chillies and asafoetida.
4. Combine with the coconut and grind to a fine paste with very little water.
5. Heat 2 tsp ghee and add the ingredients for tempering.
6. When the mustard seeds splutter, add the green chillies, chopped tomato and brinjals.
7. Saute for a minute.
8. Mix in the salt, turmeric powder, sambar powder, tamarind juice and jaggery and cook on low heat till the vegetables are tender.
9. Stir in the cooked dal and the spice paste.
10. Simmer for a couple of minutes for the flavours to blend.
11. Garnish with chopped coriander leaves.
12. Serve hot with rice.