The Paneer Pav Bhaji is a twist to this most commonly found chat recipes.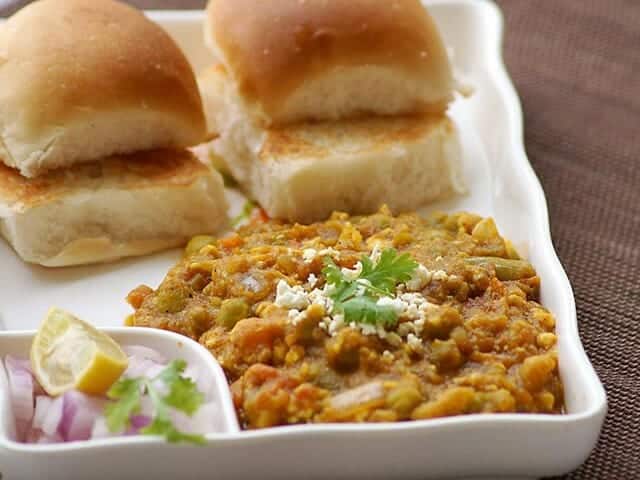 Pav Bhaji is a quintessential street chaat item of Mumbai fame. Now, while people have their own favourites amongst the many chaat dishes, I'm yet to come across someone who has not taken a fancy to the Pav Bhaji. The Paneer Pav Bhaji is a twist to this most  commonly found chat recipes.
Just like our versatile Dosa, the simple Pav Bhaji has also, over time, undergone twists and turns through multiple experiments. The resultant output in the form of Jain Pav Bhaji, Corn Pav Bhaji, Paneer Pav Bhaji and Cheese Pav Bhaji. I have tried almost all of these variations except the Jain version. Also, amongst all these, I just can't have enough of the Cheese and Paneer Pav Bhaji varieties. Personally, I just love Paneer and can zap it into almost any dish. Soft buns, slathered with Amul Butter(I'm very partial to this brand), served with spicy and smooth Bhaji with soft paneer topped with a small slab of butter once again – and I'm in food heaven! What are you waiting for, come join me and explore a simple, yet heartfelt that is the Paneer Pav Bhaji
For this recipe, you can add in the paneer which ever way you like – grated- if you like to smooth & mixed with the gravy overall, small or large chunks. What ever you do, just don't forget to top it off with lots of butter and a squeeze of lemon.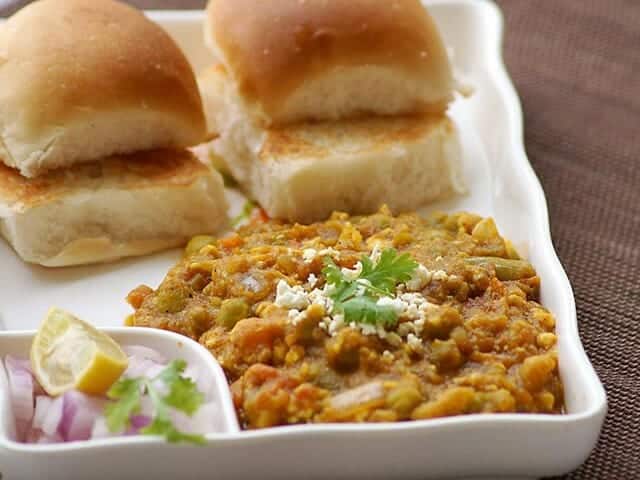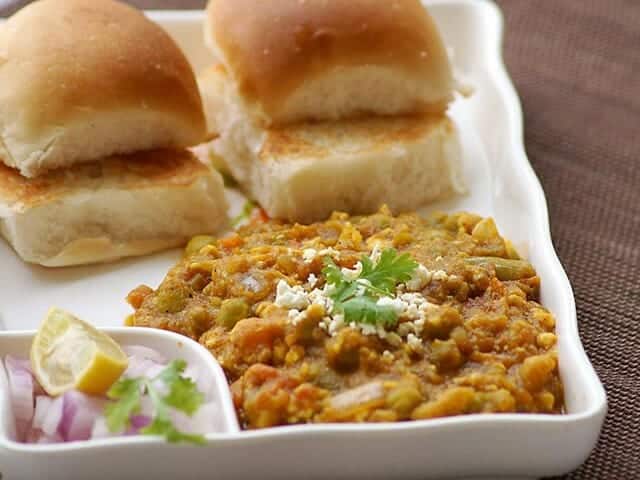 Paneer Pav Bhaji

Recipe

The Paneer Pav Bhaji is a twist to this most commonly found chat recipes.
Ingredients for
Paneer Pav Bhaji
For the Bhaji:
20

g

Butter

1

tsp

Cumin Seeds

1

tsp

Grated garlic

2

large

Potatoes

washed and peeled.

1/2

cup

Cauliflower

cut into small florets

1/2

cup

Carrots

diced

1/2

cup

Green peas

1

cup

Onions

finely chopped

1/2

cup

Capsicum

finely chopped

150

g

Paneer

diced or grated

300

g

Tomatoes

Ripe , finely chopped

2

tbsp

Pav Bhaji Masala

1

tbsp

Red Chilli Powder

Lemon Juice

as Required

handful

Coriander Leaves

finely chopped

Salt to Taste
How to make
Paneer Pav Bhaji
Chop all the vegetables.

Pressure cook, for 3 whistles, the potatoes, carrots, peas, cauliflower with a little water and salt.

Remove from flame and mash the veggies.

Heat a pan under medium flame.

Add 1 tbsp butter and temper the cumin seeds.

Add the grated garlic and cook for a minute.

Add the chopped onions, capsicum and tomatoes along with a little salt.

Cook until the tomatoes turn mushy and a thick gravy consistency is formed.

Add the red chilli powder, pav bhaji masala and mix well.

Add the mashed veggies and mix well.

Add 1 cup of water to bring the mixture to a gravy consistency.

Add the required salt and reduce the flame.

Cook for 5 to 10 minutes.

Mix in the paneer and cook for 5 more minutes.

Remove from flame and squeeze some lemon juice and garnish with coriander leaves.

Mix well and keep it closed.

heat a tawa under medium flame.

Add butter generously.

Cut the pav buns into 2 halves and spread it over the butter.

Roast on both sides with butter, until they are slightly golden and are forming a crust.

Remove and transfer it to the plate with the Bhaji.

Garnish with sliced onions and lemon wedges.