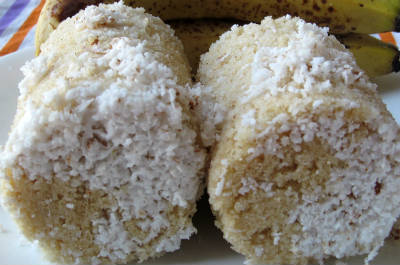 Ingredients:
Wheat Rava – 2 cups
Ghee – 1 tblsp + 1 tblsp to grease
Coconut – 1/2 cup, grated
Cashewnuts – 1 tblsp, chopped
Salt as per taste
Method:
1. Heat a little ghee in a pan.
2. Roast the wheat rava till light golden.
3. Boil 1 cup of water in a pan and keep aside to cool.
4. Add little salt and mix well.
5. Combine the wheat rava with cashewnuts in a bowl.
6. Add the warm water and mix well. Do not add too much water.
7. The mixture should not be sticky and must be easily separable.
8. Add a little bit of the grated coconut to a greased puttu maker.
9. Add 1 tblsp of the rava mixture followed by coconut and again rava.
10. Steam cook the puttu for 15 minutes and remove.
11. Transfer to a plate and serve with coconut chutney.
image credit: weliciousdelicious.blogspot.com