A simple chocolate cookies with cherry for this Christmas. Infact it is ideal for any occasion. A must for chocolate lovers!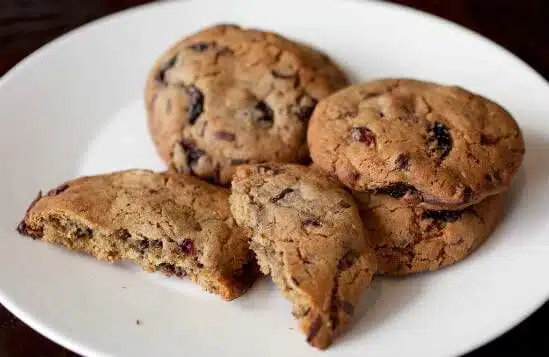 Ingredients:
All Purpose Flour (Maida) – 3 cups
Cocoa Powder – 1 1/2 cups, unsweetened
Baking Soda – 1/2 tsp
Butter – 400 gms, unsalted
Sugar – 2 1/4 cups
Coffee – 1/3 cup, strong
Dried Cherries – 3 cups
White Chocolate Chips – 2 cups
Almonds/Walnuts – 1/2 to 1 cup, chopped
Method:
1. Sift the flour, cocoa powder and baking soda in a bowl.
2. Mix the butter and sugar in a bowl. Whisk until creamy.
3. Add the coffee and beat until smooth.
4. Add the flour mixture, cherries, nuts and chocolate chips.
5. Mix well.
6. Scoop out small balls and place them on a baking tray lined with parchment paper. Flatten them lightly.
7. Bake for 8 to 10 minutes in a preheated oven at 350F.
8. Remove and cool.
9. Store in an airtight container.