A delicious pasta with lobster.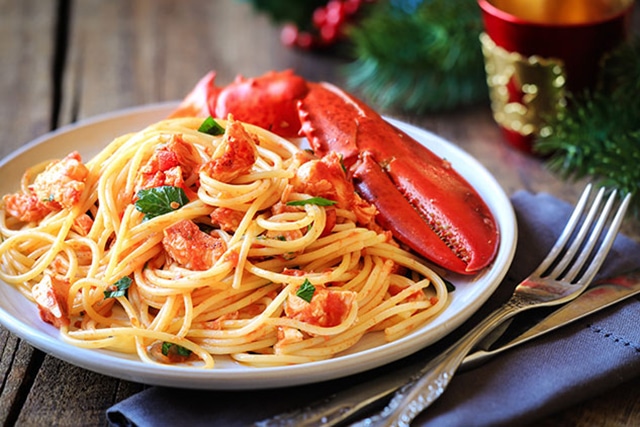 Ingredients:
Lobster Meat – 200 to 225 gms, cooked
Spaghetti Pasta – 175 gms, cooked as per packet instructions
Olive Oil – 3 tsp
Butter – 3 tsp
Onion – 1, small, finely chopped
Red Chilli Powder – 1/2 tsp (or Red Chilli Flakes)
Cherry Tomatoes – 200 gms, halved or quartered
Black Pepper Powder as per taste
Salt as per taste
Lemon Zest – 1/2 tsp, finely grated
Coriander Leaves – few, to garnish
Method:
1. Heat a large pan of water.
2. Add some salt and bring to a boil.
3. Add the pasta and cook until al dente, stirring from time to time.
4. Reserve 1/2 cup of the water and drain the pasta.
5. Heat oil in a pan over medium flame.
6. Saute the onions for a minute.
7. Add the tomatoes and cook for 5 minutes.
8. Add the lobster meat and mix well.
9. Add the red chilli powder and pasta.
10. Pour the reserved water and stir well.
11. Add salt and pepper powder.
12. Cook for a minute or two or until the sauce has thickened.
13. Garnish with lemon zest and coriander leaves. Remove from flame.
14. Serve.