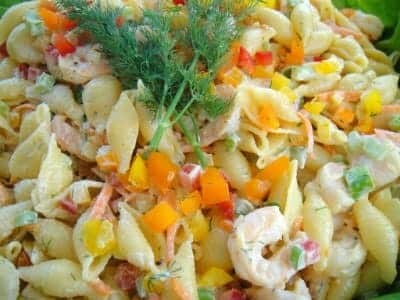 Ingredients:
Pasta – 1 to 1 1/2 cups, cooked as per packet instructions, drained
Shrimps – 175 gms, peeled, deveined, cooked
Spring Onions – 3, finely sliced
Red Capsicum – 1/2 cup, chopped
Red Onions – 1/2 cup, chopped
Avocado – 1/2, peeled, pitted, chopped
Oil – 2 tsp
For the dressing:
Mayonnaise – 1/3 cup
Buttermilk – 2 tblsp
Lemon Juice – 2 tsp
Garlic – 1 clove, minced
Parsley – 1 tblsp, finely chopped
Dill – 1 tsp, dried
Salt – a pinch
Black Pepper Powder as per taste
Method:
1. Whisk all the dressing ingredients in a bowl.
2. Cover and keep it in the fridge until required.
3. In a bowl, mix the pasta with oil and cover.
4. Keep it in the fridge for 30 minutes.
5. Remove and add all the other ingredients.
6. Add enough dressing and mix well.
7. Cover and chill for 2 to 3 hours.
8. Serve.
Tip: If the salad is dry, add some more dressing before serving.
Note: Add tomatoes and cucumber if desired.