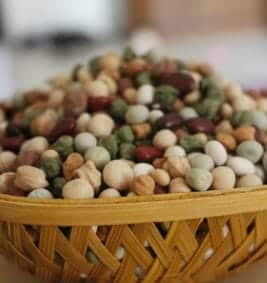 Ingredients:
Wheat – handful
Rice – handful
Toor Dal – handful
Chana Dal – handful
Lima Beans (Mochai) – handful
Black Sesame Seeds – handful
Urad Dal – handful
Horse Gram Dal – handful
Moong Dal – handful
To serve:
Onions – 1 to 2, finely chopped
Green Chillies – 2, finely chopped
Coriander Leaves – handful, chopped
Ginger – 1 inch pice, finely chopped
Chaat Masala Powder as required
Mango – 1, finely chopped
Tomatoes – 1, finely chopped, seeds removed
Black Salt as per taste
Lemon Juice – little
Green Chutney as required (optional)
Sweet Tamarind Chutney as required (optional)
Method:
1. Soak the navadhanyams in water for 8 hours separately.
2. Drain and keep them covered for 2 days.
3. After 2 days, the grains should have sprouted.
4. Transfer them to a large bowl.
5. Add the onions, green chillies, coriander leaves, ginger, chaat masala powder, mango, tomatoes, salt and lemon juice.
6. Mix well.
7. Garnish with the green chutney and tamarind chutney.
8. Serve at once.
Tip: If available, you can use readily available sprouted navadhanyams. They should be available in most major supermarkets.
image via priya's feast