A healthy and delicious sandwich ideal for everyone.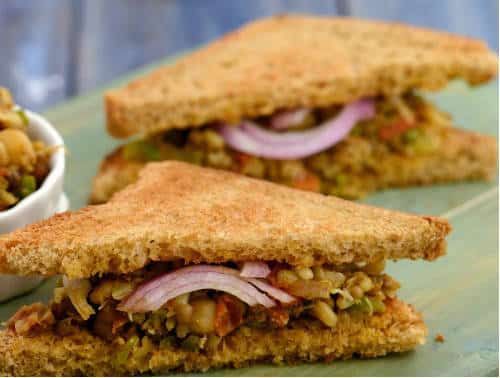 Ingredients:
Mixed Sprouts – 1 cup
Coriander Leaves – 1 cup
Green Chillies – 3
Bread Slices – 6 to 8
Wheat Flour – 1 tsp
Oil – 1 tsp
Salt as per taste
Ghee as required
Optional Ingredients:
Onion – 1, sliced
Tomato – 1, sliced
Method:
1. Heat 1 cup of water in a pan and bring to a boil.
2. Add the sprouts for 10 minutes and drain well.
3. Add salt and grind to a coarse paste in a mixie.
4. Heat little oil in a pan.
5. Add the ground paste.
6. Mix the wheat flour in little water and add to the pan.
7. Stir-fry for a minute or two and remove.
8. Grind the coriander leaves, green chillies and little salt to a fine paste.
9. Spread this green chutney on the bread slices.
10. Add 1 or 2 tblsp of the ground sprout paste to 3 or 4 slices and spread evenly (on top of the green chutney).
11. Cover with the remaining slices.
12. Heat a tawa over medium flame.
13. Place the prepared sandwiches and apply little ghee around the edges.
14. Cook for a minute on both sides and remove.
15. Alternatively, place them on a sandwich maker and cook.
15. Serve with ketchup.
image via Tarla Dalal