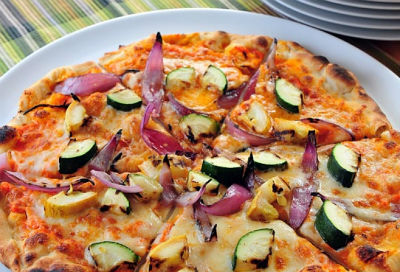 Ingredients:
Pizza Dough – 225 gms
Olive Oil – 2 tblsp
Garlic – 3 cloves, minced
Brinjals – 2, small, sliced
Mozzarella Cheese – 100 gms, sliced
Tomatoes – 2, small, sliced
Basil Leaves – 1/2 cup
Balsamic Vinegar
Black Pepper Powder
Salt as per taste
Method:
1. Divide the pizza dough into 2 portions and roll them into a medium sized rounds on a floured surface.
2. Place them on a baking sheet separated by a sheet of parchment paper.
3. Freeze until dough is firm.
4. Heat 1/2 tsp of oil over medium flame.
5. Add the garlic and stir for 30 seconds. Keep aside.
6. Brush the brinjals with oil and grill till tender and golden brown.
7. Remove and keep aside.
8. Brush the dough with some oil and garlic.
9. Sprinkle salt and pepper.
10. Grill the dough till golden brown and remove.
11. Brush them again with oil and top with cheese.
12. Add the brinjals, tomato slices and grill till cheese starts to melt.
13. Drizzle some vinegar and sprinkle basil on top.
14. Serve.