Quinoa is a gluten-free and cholesterol-free grain rich in fiber, protein, vitamins and contains all 9 amino acids.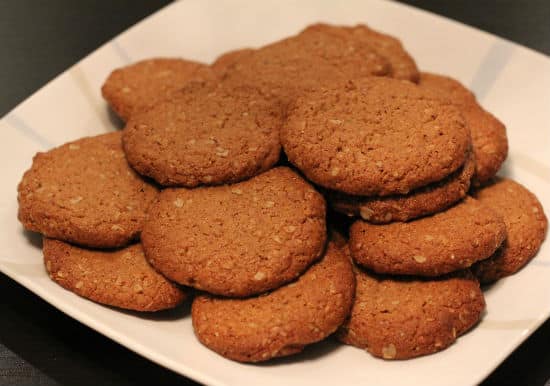 Ingredients:
Quinoa Flakes – 1/2 cup
Peanut Butter – 2 tblsp, smooth
Brown Sugar – 1 2/3 tblsp
Honey – 1 1/2 tblsp
Butter – 50 gms
Vanilla Essence – 1/2 tsp
Rice Flour – 3/4 cup
Baking Powder – 1/2 tsp
Icing Sugar as required
Method:
1. Mix the butter, brown sugar, honey and peanut butter in a pan over low flame, until melted.
2. Stir well for 3 to 4 minutes.
3. Switch off the flame and allow it to cool.
4. Mix the rice flour, baking powder and quinoa in a bowl.
5. Add the peanut butter mixture and mix well to form a dough.
6. Shape the dough into small balls.
7. Place them on a baking tray lined with parchment paper and flatten slightly.
8. Keep aside for 10 minutes.
9. Place the tray into a pre-heated oven at 180C and cook for 10 to 15 minutes or until golden brown.
10. Remove and cool completely.
11. Dust with icing sugar.
12. Store the cookies in an air-tight container.