Surti Locho or Surati Locho is a popular and traditional Gujarati street food from the city of Surat. Similar to a Dhokla, it is an anytime dish – breakfast, snacks or dinner and is often served as a teatime snack.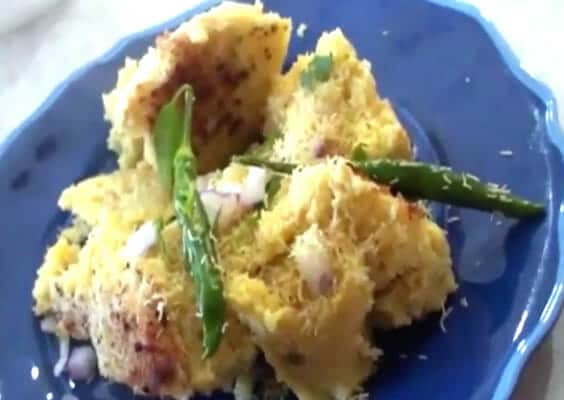 Ingredients:
Chana Dal – 2 cups, soaked for 8 hours or overnight
Black Peppercorns – 1/2 tsp
Oil – 6 tblsp
Ginger – 2 inch piece, peeled, grated
Turmeric Powder – 1/2 tsp
Green Chillies – 4 to 6, chopped (depending on size)
Salt as per taste
Red Chilli Powder – 1 tsp
Baking Soda – 2 tsp
To Serve:
Green Chutney – 1 cup
Coriander Leaves – a large handful, finely chopped
Sev – 2 cups
Green Chillies – 5 to 6, finely chopped or slit lengthwise
Lemon Juice – 2 tblsp
Method:
1. Drain the dal well.
2. Pour 3 cups of water and grind to a paste.
3. Mix the ginger, green chillies, turmeric powder and little salt in a bowl.
4. Add baking soda, 1/2 tsp red chilli powder and 2 tblsp oil.
5. Add this to the ground dal and mix well until evenly combined and the batter resembles a dhokla batter.
6. If you have a steamer, then grease the insides with little and pour the batter in.
7. Sprinkle the black pepper powder and red chilli powder.
8. Steam cook for 60 to 75 minutes and remove.
9. If you do not have a steamer, pour 2 to 3 cups of water into a large pan and place it over medium flame.
10. Place a wire stand or a colander on top.
11. Pour the batter into a bowl (ensure the bowl fits properly on top of the stand). Sprinkle red chilli powder and black pepper powder on top.
12. Place it over the stand and cover the pan.
13. Stem cook for 60 minutes and remove.
14. To check if it is cooked, insert a knife into the center and if it comes out clean, then it is cooked.
15. To serve, transfer the locho to a serving dish.
16. Scoop out a portion onto a serving plate and gently mash/break using the back of a spoon.
16. Pour little oil on top.
17. Garnish with green chutney, coriander leaves, sev, green chillies and lemon juice.
18. Serve at once.