A combination of tangy, sweet and sour, this rasam is very different but tasty.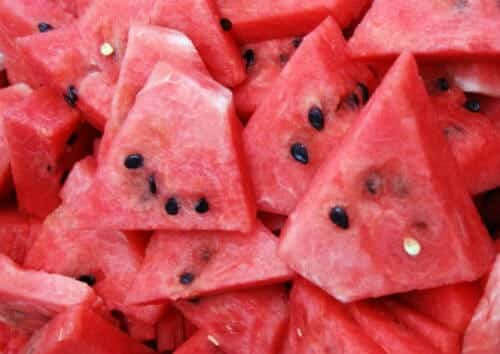 Ingredients:
Plain Watermelon Juice – 2 cups
Toor Dal – 1 cup
Tamarind Extract – little
Amla (Nellikai) Juice – 8 tsp
Turmeric Powder – little
Rasam Powder – little
Salt as per taste
Pepper Powder – little
Coriander Leaves – little
Curry Leaves – little
For Tempering:
Ghee – 1 tsp
Mustard Seeds – little
Cumin Seeds – little
Asafoetida Powder – little
Method:
1. Heat ghee in a small pan.
2. Fry the tempering ingredients for 30 seconds and remove.
3. Boil the toor dal in enough water and mash well.
4. Extract 1 cup of dal water and discard the rest (or use for any other recipe).
5. Mix the dal water, watermelon juice, amla juice and tamarind extract in a pan with the tempered ingredients.
6. Add salt, turmeric powder, pepper powder, rasam powder and bring to a boil over low/medium flame.
7. Garnish with coriander leaves and curry leaves.
8. Serve with rice.