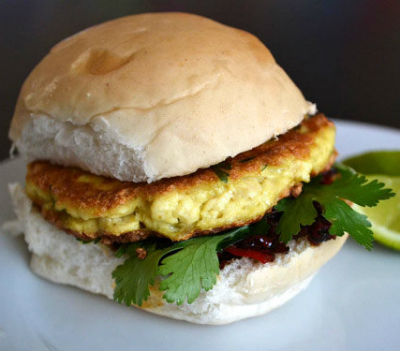 Ingredients:
Tofu – 200 gms, drained, sliced into 1 inch patties
Rice Vinegar – 1/2 tblsp
Sugar – 1 tblsp
Soy Sauce – 1/4 cup
Oil – 1 tblsp
Cheese Slices – few
Burger Buns – 2, toasted
Method:
1. Heat soy sauce, sugar and vinegar in a pan over low flame.
2. Cook for 4 to 5 minutes.
3. Place the tofu patties in a bowl.
4. Pour the soy sauce mixture over and keep aside for 20 minutes, turning once.
5. Heat oil in a nonstick pan.
6. Cook the tofu for 2 minutes on each side.
7. Place a cheese slice on top of each patty and cook for 2 minutes or until cheese melts.
8. Place the pattie on one half of the burger bun.
9. Top up with honey mustard, onion rings, tomato slices, jalapeno and ketchup.
10. Serve.
Note: image is for illustration purposes only and not that of the actual recipe.