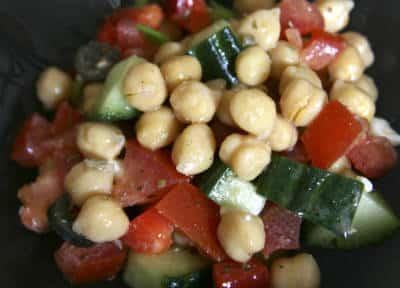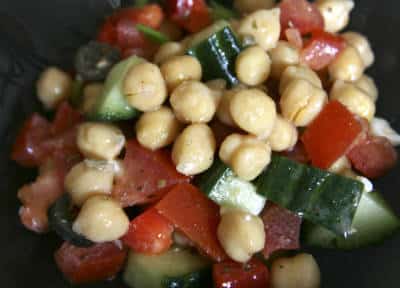 Ingredients:
Cucumber – 2, diced
Tomatoes – 6 to 8, deseeded, chopped
Spring Onions – a small bunch, finely chopped
Carrot – 2, peeled, grated
Chickpeas – 750 gms, soaked, drained
Baby Spinach Leaves – handful
Mint Leaves – handful, chopped
Coriander Leaves – handful, chopped
Black Pepper Powder as per taste
Salt as per taste
For the dressing:
Vinaigrette – 2/3 cup, fat free
Garlic – 4 cloves, crushed
Cinnamon Powder – 1/2 tsp
Cumin Powder – 2 tsp
Juice of 2 Lemons
Method:
1. Mix all the dressing ingredients in a bowl.
2. Combine the cucumber, tomatoes, spring onions, chickpeas, carrot, mint leaves, spinach leaves and coriander leaves in a large bowl.
3. Drizzle the dressing over the salad.
4. Sprinkle salt and pepper powder.
5. Toss well to mix.
6. Transfer into serving bowls and serve.
image via flickr – https://www.flickr.com/photos/spacekadet/2895591321/