Panchamirtham is a prasadam offered in temples, primarily in TamilNadu. It is a thick, sweet mixture of various fruits and stays for a long period of time, sometimes even for 30 days. The Panchamirtham offered at Lord Muruga's template in Palani (a place in TamilNadu) is very popular and it is even called as "Palani Panchamirtham". The recipe below gives you a simple way to prepare Panchamirtham.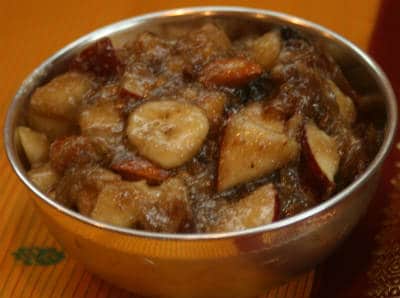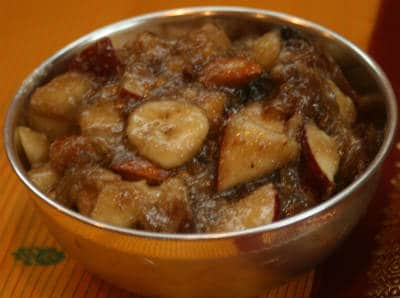 Ingredients:
Banana – 1, cut into rounds
Dates – 10, seeds removed
Apple – 1/4 cup, chopped
Orange – 1, peeled, seeds removed
Pomegranate Seeds – 2 to 3 tblsp
Diamond Kalkandu (Rock Candy) – 2 tblsp
Brown Sugar – 1/4 cup
Honey as required
Method:
1. Combine all the ingredients in a large bowl, in the order listed.
2. Toss well and mix until evenly combined.
3. Serve.