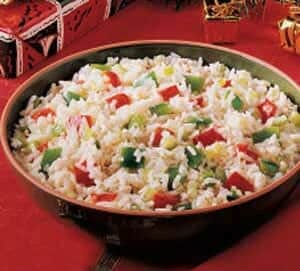 Ingredients:
Rice – 1 cup, uncooked
Onions – 1/4 cup, finely chopped
Green Capsicums – 1/4 cup, chopped
Red Capsicum – 1/4 cup, chopped
Celery Stalks – 1, large, finely chopped
Butter – 2 tsp
Vegetable Stock or Water – 1 cup
Salt as per taste
Black Pepper Powder – a pinch
Method:
1. Heat butter in a non-stick pan over medium flame.
2. Saute the onions, capsicums and celery for a minute.
3. In a different pan, bring the vegetable stock to a boil.
4. Remove and add the rice, sauteed onions, salt and pepper powder.
5. Cover and simmer over low flame for 8 to 10 minutes or until the rice is cooked.
6. Stir well and transfer to a serving bowl.
7. Serve hot.
Tip: Keep checking from time to time to see if the rice is cooked.