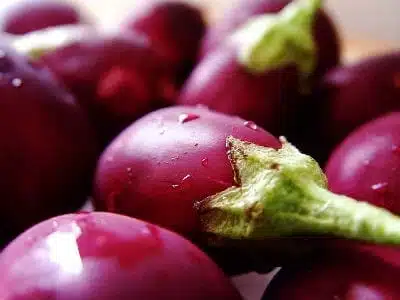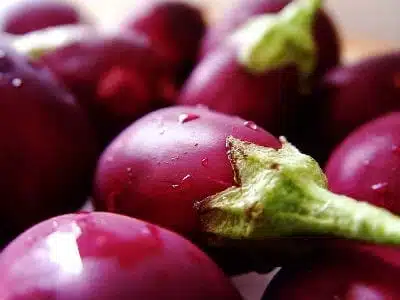 Ingredients:
Brinjals – 250 gms, tender, slit lengthwise
Onions – 2, large, chopped
Garlic – 10 cloves, chopped
Tomato – 1, chopped
Red Chilli Powder – 1 tsp
Coriander Leaves – 2 tsp
Oil – 1 tsp
Salt as per taste
Dry roast and grind to a coarse powder:
Bengal Gram Dal – 2 tsp
Coriander Seeds – 4 tsp
Dry Red Chilli – 1
Coconut – 4 tsp, grated
Asafoetida Powder – a pinch
Method:
1. Heat oil in a pan.
2. Saute the garlic, onions and tomatoes for a minute.
3. Add the brinjals and mix well.
4. Add salt, red chilli powder and salt.
5. Add a little water and cook for a few minutes.
6. Add the ground powder and stir.
7. Remove and transfer to a serving dish.
8. Garnish with coriander leaves.
9. Serve.