Diwali is a time of sweets and gifts. People celebrate this occasion by preparing sweets and distributing them to their friends, neighbors and relatives. Here are the 10 most popular Indian sweets prepared and consumed during Diwali time in India.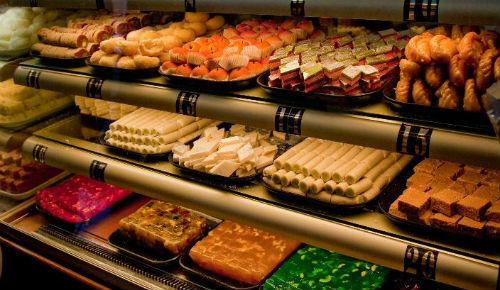 Rasagullas
Rasagullas are often regarded as the "king of all Indian sweets". These perfectly round, soft, milky white, syrupy, mouthwatering sweet delicacies are quite popular during any Indian festive time, including Diwali. They are Bengali delicacies made from suji and cottage cheese. These are soaked in sugar syrup. There are variations of these sweets according to the flavorings added to them. These may be rosewater, mango, saffron, and jaggery. Whatever the variation may be, rasagullas taste the best when they are served chill.
Anjeer Cutlet
Anjeer cutlet is a rich cashew, Jaipuri sweet. Many other fine ingredients such as dry fruits are added in it. This elongated cylindrical shaped sweet is usually bought from shops. It is colorful and appealing to the eyes.
Gajar ka Halwa
Gajar Ka Halwa is a very tasty sweet dish prepared at most of the Indian homes during festival times. It is prepared by cooking grated carrot in milk. It is quite easy to prepare and is served either cold or hot. Anyone would love this sweet delicacy.
Gulab Jamun
Gulab Jamun is a famous sweet prepared and distributed during diwali. This sweet is international as it is popularly consumed in India, Nepal, Bangladesh, Pakistan and Sri Lanka. It is prepared from khoya, sugar, wheat flour, cardamom and rose water. The khoya mixture is made into small balls, deep fried in ghee or refined oil, and soaked in sugar syrup. It sof, fluffy, and simply yummy.
Mysore Pak
Mysore Pak is a popular sweet meat of Karnataka. This rectangular shaped sweet made with gram flour, ghee and sugar is mouthwatering. It just melts in your mouth. It was first served to the royal family at Mysore, and hence the name Mysore Pak. It was a royal sweet whose recipe was kept a secret for decades.
Laddus
Laddus are prepared and consumed all over India during festive times. There are different types of laddus like the rava laddus, besan laddus, aval laddu, groundnut laddu, coconut laddus, til laddus, motichoor laddus, etc. They are ball shapped and are prepared at home on family functions and festivals.
Adhirasam
Adhirasam is a traditional sweet of Tamil Nadu, consumed in most of the households during all festive seasons. It is prepared from rice flour and jaggery. This age old sweet has been prepared and consumed by the South Indian people ever since the beginning of Tamil civilization.
Cashew Barfi
Cashew Barfis are sweet cakes made using sugar and cashew nut powder. Often times these are found decorated with silver foil. Cashew barfis are considered special rich sweets distributed during festive times. There are also the other barfis like the groundnut barfi, coconut barfi, etc, but cashew barfi is quite popular and costly too.
Gujia
Guijia is a popular sweet from Rajasthan, located in the Northern part of India. Guijias are prepared using maida, wheat flour and sweetened khoya. Sweetened khoya filling is replaced by shredded coconut in Goa, and some other places. Gujias are prepared and consumed popularly in Western and Southern parts of India.
Rasmalai
Rasmalai is a famous Indian sweet prepared and consumed in the North Indian households. They are basically cardamom flavored balls of paneer soaked in milk cream. This soft milk sweet is usually served chill with a topping of nut slices and dry fruits. It is yummy, and is widely consumed during Indian weddings and festive times.