India is known for rich culture, heritage, tradition and delicious food. We cannot complete our food without having proper desserts. Indian desserts are found in plenty. One must try these to understand the specialty of each delicacy. Here is a list of some famous and favorite Indian desserts one must never miss to taste in life.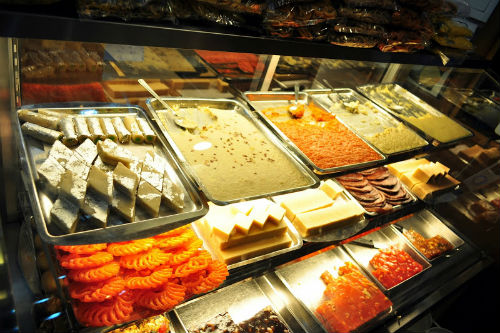 Gulab Jamun: This sweet is absolutelygreat in taste. These are round shaped sweets made from reduced milk. The dumpling like structures are deep fried in white oil or ghee and immersed in sugar syrup before serving at the table. A pinch of cardamom and saffron in the reduced milk paste of the dumpling makes it more delicious.
Rasgulla: This sweet is famous in the eastern part of India. No festival is complete without having Rasgulla. This is also dumpling like structure made from the pure recued milk paste. These are made like balls and soaked in sugary syrup for making these ready to taste.
Jalebi: This sweet is somewhat circular with erratic circular patterns. These are made from a yellowish material and deep fried in oil. The crispy jalebi is finally soaked in sugary syrup for making it tastier.
Kulfi: This is actually an Indian form of ice cream. It is liked in cold form. The milk is reduced by boiling and different flavors are added while the boiling process progresses. Saffron can also be added along with rose water to enhance the taste. The range of flavors is available like pistachio, apple, mango and many more.
Gaajar ka Halwa: This is made from carrots. Carrots are grated and cooked in ghee along with sugar, dry fruits and nuts. The color is fascinating orange and the taste is really great. This is famous in North India.
Ras Malai: This is like pudding. The dumplings like rasgulla are made from cheese and dipped in thickened and flavored milk. The pistachio nuts and rose water is added to make the ras malai taste like heaven. It gives refreshing end to lunch or dinner.
Kheer: This delicacy is mainly prepared during festival time. Rice is boiled in milk with the addition of cashews, raisins and bay leaf. Cardamoms make the kheer taste even better. No religious occasion and happy ceremonies is complete without having kheer.
Besan Ka laddoo: Laddoo marks every Indian occasion. No festival is complete without using laddoos for Pujas. Gram flour is used in the making of laddoos along with almonds, dry fruits, sugar and cardamoms.
Malpua: This sweet is made by mixing milk, bananas and flour. The thickened mixture is poured in oil to make like pancakes. The brown colored malpuas are then dipped in sugar syrup for adding taste.
Sandesh: Plenty of sandesh types are famous in the Eastern part of India. These are made from cottage cheese or ricotta cheese. Sugar is added while preparing these. Many flavors can be obtained like pineapple, mango, and others. These are available in a variety of shapes and sizes.
India has always made a place in the hearts of people all around the globe with wonderful food. Indian food is incomplete without consuming sweets. Festival time is filled with eating, preparing and sharing sweets. People still not having tasted of Indian desserts must try these. They will never be disheartened but will feel great. One can try these in shops selling the sweets or taste them in the homes of relatives where the female of the homes prepare these with care. Indian sweets are quite reasonable in price. Never miss the opportunity of tasting such amazing desserts as these can create an everlasting impression in one's mind.