The name Punjab means "land of five rivers", which are Jhelum, Chenab, Ravi, Sutlej and Beas. The five rivers, now divided between India and Pakistan, merge to form the Panjnad, which joins the Indus. And if there are rivers, then there must be agriculture, which is the largest industry in Punjab.
Punjabi cuisine can be non-vegetarian or completely vegetarian.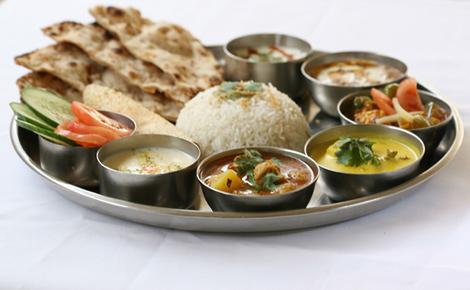 Punjabi cuisine uses a liberal quantity of butter and ghee. The main masala in a Punjabi dish consists of onion, garlic and ginger and usually mildly spiced. Tandoori food is a Punjabi specialty especially for non-vegetarian dishes.
Dal Makhni, prepared from Urud Dal and Rajma with spices and seasoning has become world famous and is served in Punjab on all ceremonial occasions.
Pranthas, stuffed with seasonal vegetables, stuffed with lentils, stuffed with spices, stuffed with sweets and also stuffed with fruits like papaya are famous all over the world. They originated from
Punjab. Check out this link to view the entire listing of stuffed parantha section.
The other bread recipes depend on how they are prepared. The first one is described above as paranthas, which are generally shallow fried.
Then there is the one baked on a tandoor like the Naan, Tandoori roti and Kulcha.
The third type of bread preparation is the one dry baked on the tava like the Phulka or Chapati, jowar ki roti, baajre ki roti and the very famous Makki ki roti which are also smeared with Butter.
The fourth type is the one deep fried like Puri and Bhatoora.
The pista lassi, saffron-mixed lassi of
Amritsar is so very popular today. Infact there are so many variations custom made with lassi that I suggest you check out our entire collection of lassi here.
Kulfi, a popular variety of ice-cream is actually milk boiled into a thick paste with almonds, pistachio and dry-dates and then solidified in a mould. Its taste is unparalleled.
Panjiri, whole-wheat flour fried in sugar and ghee, heavily laced with dry-fruits and herbal gums in eaten in the winters to ward off cold.
Punjabi fried and tandoori-baked fish, tandoori baked and butter chicken, kebabs baked on charcoal, Patiala's Shahjahani Palao and a variety of chicken and mutton curries and vegetable and meat biryanis are relished the world over.
Vegetarian side dishes include Sarson Da Saag which goes so well with Makki ki roti. Some other popular dishes include Mushroom & Bean Sabzi, the world famous Dal makhani, Rajma (Red kidney bean) and Rice, Dal Amritsari, Rongi, Choley (eaten with Naan or Kulcha)
Some snacks and sweets are listed below.
Kadhi pakoras and rice – Do you know it's a specality in this region? This is how it is prepared – Kadhi is a type of curry made by cooking gramflour with curd or buttermilk. Fried lumps (Pakoras) of gramflour with salt and chillies are also added. It is eaten with rice. This is a very traditional dish amongst Punjabis.
Paneer, Phirni, Jalebi and Malpua are very popular sweet dishes.
Pakoras and Samosas are a rage amongst all.
Non-vegetarian dishes include chicken, lamb, beef, dish, various types of kebabs and even pickles made of meat.
Chicken tikka, Butter chicken, Tandoori chicken are a few dishes which are most popular in wayside dhabbas and traditional homes.
Rogan Josh, Bhuna Ghost, Kadhai Ghost, Raan Gosht, Dal Gosht, Saag Gosht, Nihari Gosht, Rara Gosht, Paye da Shorba are favorite dishes prepared from lamb.
Nihari Beef, Beef Pasanda and Kadhai Beef go well with almost all bread varieties.
For rice dishes, we have various fish recipes like Amritsari Fish, Tandoori Fish, Fish Tikka and Fish Pakora. Amritsari Fish is the most famous and delicious fish recipe from
Punjab.
Chicken Biryani and Lamb Biryani are very popular.
Lamb Pickle and vegetable Pickle are a must for every meal.
Punjabi's have a unique flavor in every dish. Their masala is common for all dishes, but the unique flavor is obtained with the right combination of grains, vegetable stuffings and seasoning. Lassi is a common drink during every meal. Butter and ghee are a must too. Road side dabbas are most popular places to experiment on punjabi delicacies. Its an awesome state and an awesome culinary skill to master. Balle Balle!
image credit – www.idealpunjab.com