Jalebis are a popular Indian dessert sweet made during festivals or special occasions.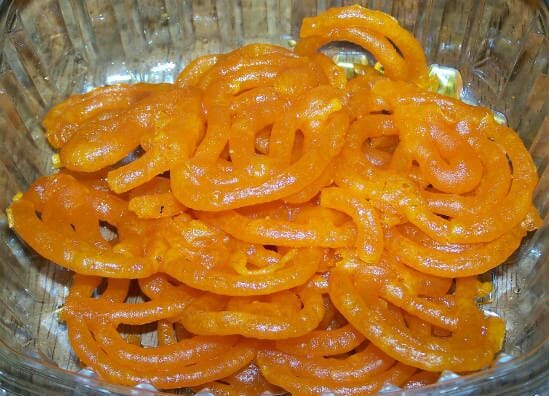 Ingredients:
Maida (Plain Flour) – 2 cups
Corn Flour – 1/4 cup
Curd – 1 1/2 cups, thick
Baking Soda – a large pinch
Ghee – 1/4 cup
Oil for frying
Orange Food Colour – a pinch
For the Sugar Syrup:
Sugar – 2 cups
Water – 2 cups
Saffron Strands – few
Rose Essence – few drops (optional)
Cardamom Powder – 1/4 tsp
Method:
1. Mix maida, corn flour and baking soda in a bowl.
2. Add ghee and food colour.
3. Mix well.
4. Add the curd and enough water to make a thick batter.
5. Keep aside for 8 hours or overnight.
6. Using a ladle, mix well until it thick but has a pouring consistency.
7. To make the sugar syrup, heat water in a pan over medium flame.
8. Add sugar and mix until fully dissolved.
9. Simmer until it has an one string consistency.
10. Add the saffron, cardamom powder and rose essence.
11. Stir well.
12. Heat oil for deep frying over medium flame.
13. Fill a piping bag (or a ziploc bag with a small hole) with the batter.
14. Gently squeeze it over the hot oil and form spirals.
15. Fry until golden brown and crisp.
16. Remove, drain excess oil and drop them in the sugar syrup.
17. Leave them in the syrup for 2 to 5 minutes.
18. Remove and serve warm or at room temperature.