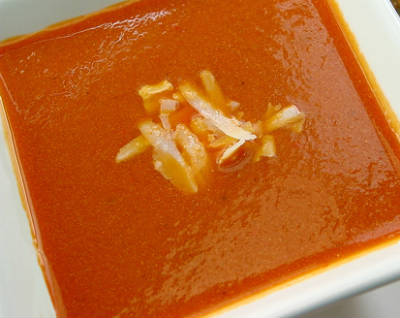 Ingredients:
Tomatoes – 400 gms
Onion – 1, small, chopped
Cheese – 1 cube, grated
Mint Leaves – few, dried
Vegetable Stock (or Plain Water) – 1/2 cup
Black Pepper Powder as per taste
Salt as per taste
Rice Flour – 1/2 tblsp
Butter – 1/2 tblsp
Method:
1. Blanch the tomatoes and remove the skin.
2. Then grind to a smooth puree and strain well.
3. Heat butter in a pan.
4. Saute the onions till they turn transparent.
5. Add the rice flour and stir well.
6. Pour the stock (or water) and stir till well combined ensuring no lumps are formed.
7. Add the tomato puree and bring to a boil.
8. Reduce flame and simmer for a few minutes.
9. Add the mint leaves and remove.
10. Pour into individual soup bowls.
11. Sprinkle salt and pepper on top.
12. Garnish with grated cheese and serve hot.