A simple and popular fast food snack.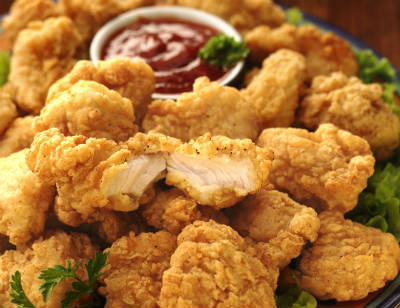 Ingredients:
Chicken – 250 gms, boneless, skinless, washed, cleaned, chopped into small pieces
Soy Sauce – 1 tsp
Vinegar – 1 tsp
Ginger Garlic Paste – 1 tsp
Red Chilli Powder – 1 tsp
Pepper Powder – 1 tsp
Corn Flour – 2 to 3 tsp
Maida – 2 to 3 tsp
Rice Flour – 2 to 3 tsp
Orange Food Colour – a pinch
Buttermilk as required
Salt as per taste
Oil as required
Egg – 1 (optional)
Method:
1. Add the chicken pieces to a large bowl and pour enough buttermilk to cover them.
2. Gently mix for a few minutes and remove.
3. Transfer to another bowl.
4. Add the ginger garlic paste, soy sauce, vinegar and mix well.
5. Keep aside to marinate for 1 hour.
6. Add the corn flour, maida, rice flour, red chilli powder, pepper powder, salt and food colour.
7. Mix until the chicken pieces are well coated with the masalas.
8. If desired, break the egg and mix well.
9. Heat oil for frying in a deep pan.
10. Fry the chicken pieces till crisp and golden.
11. Drain excess oil.
12. Serve as a snack with ketchup or chutney.