A delicious dish bursting with flavor, perfect for a weeknight dinner.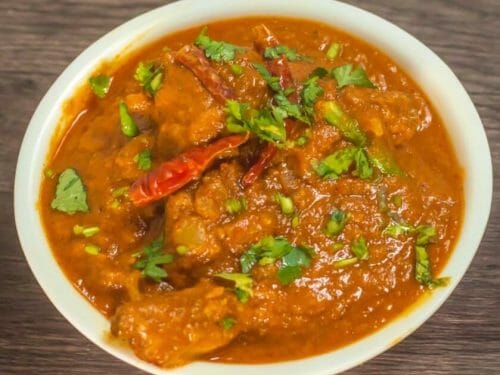 The chicken madras is a dish that is popular in countries like India, Bangladesh, and Sri Lanka. The dish is made with a sauce that has been cooked with spices, onions, garlic, ginger, and tomato puree. It also includes chili powder for its spiciness.
The dish is popular because it combines the flavors of Indian cuisine with the spices of southern Indian cooking. It also has a rich flavor because of the use of many different spices.
Chicken Madras is a spicy dish that can be served as an appetizer, main course or side dish. The dish can be served with rice or naan bread.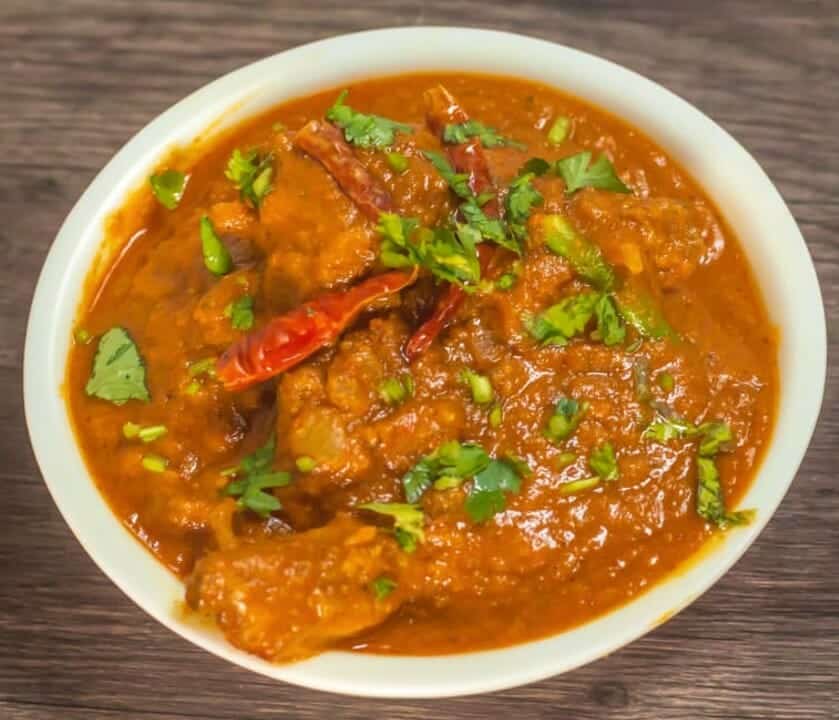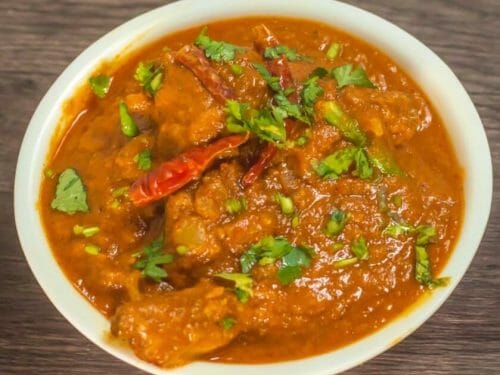 Chicken Madras

Recipe

A delicious dish bursting with flavor, perfect for a weeknight dinner.
Ingredients for
Chicken Madras
400

g

Chicken Breasts

skinned and cut into 1 inch cubes

2

tbsp

Oil

1

Onion

finely chopped

1/2

tbsp

Lemon Juice

as per taste

Salt as per taste

2

tbsp

Coconut

finely chopped or grated

1/4

tsp

Garam Masala Powder

150

ml

Madras Curry Sauce
For the Madras Curry Sauce
8

Garlic Cloves

roughly chopped

25

g

Ginger

peeled, roughly chopped

4 to 5

Shallots / Sambar Onions

roughly chopped

1

tbsp

Curry Leaves

3/4

tsp

Cumin Powder

1 to 1 1/2

tsp

Red Chilli Powder

1

tsp

Turmeric Powder

50

g

Tomato Puree

600

ml

Lukewarm Water

as per taste

Salt

3/4

tsp

Sugar

handful

Coriander Leaves

chopped

1 1/2

tbsp

Lemon Juice
How to make
Chicken Madras
To make the madras curry sauce, heat oil over medium flame.

Add the ginger, garlic and sambar onions. Saute for 2 to 4 minutes, stirring continuously.

Add the curry leaves, red chilli powder, cumin powder and turmeric powder.

Stir fry for 2 minutes.

Add the tomato puree and cook for 45 to 60 seconds.

Now add the water, salt and sugar.

Let it come to a boil and reduce the heat to low.

Cover the pan and simmer for 10 to 15 minutes.

Add lemon juice and coriander leaves.

Simmer for 30 to 45 seconds and remove from flame.

Blend the sauce until smooth in a blender/mixie.

Store in an airtight container in the fridge.

To make the chicken madras, rub the salt and lemon juice into the chicken pieces and keep aside.

Heat oil in a pan over low flame.

Saute the onions for 5 to 8 minutes.

Add the marinated chicken pieces and stir-fry for 2 to 3 minutes, until they change colour and are lightly cooked.

Add the madras curry sauce and coconut.

Cook until the sauce begins to bubble and reduce the flame to low.

Cover the pan with a lid and cook until the chicken is tender and cooked through.

Add the garam masala powder and remove from flame.

Serve with rice or roti.
Frequently Asked Questions about Chicken Madras
Is Chicken Madras a spicy dish?
Yes, Chicken Madras is a spicy Indian dish that originated in the southern part of India. The dish is made with aromatic spices such as cumin, coriander, turmeric, and chilli powder, giving it a hot and spicy flavor. However, the level of spiciness can be adjusted according to your taste preference. If you prefer a milder version, reduce the chilli powder or use a mild curry powder.
Can I make Chicken Madras in advance?
Yes, Chicken Madras can be made in advance and stored in the refrigerator for up to 3 days. The dish's flavours tend to deepen and develop over time, making it even more delicious the next day. To reheat the dish, transfer it to a saucepan and heat gently over low heat until heated.
What can I serve with Chicken Madras?
Chicken Madras is typically served with steamed rice or Indian flatbread such as naan, roti, or paratha. You can also serve it with sautéed spinach, roasted cauliflower, or spiced potatoes. For a complete Indian meal, you can pair Chicken Madras with other dishes such as vegetable biryani, chana masala, or dal makhani.
Can I use other meats instead of chicken in Chicken Madras?
You can use other meats such as lamb, beef, or shrimp instead of chicken in Chicken Madras. However, the cooking time and method may vary depending on the type of meat you use. For example, lamb or beef may require a longer cooking time to become tender, while shrimp may require a shorter cooking time. If you are using a different type of meat, adjust the cooking time accordingly and ensure it is fully cooked before serving.