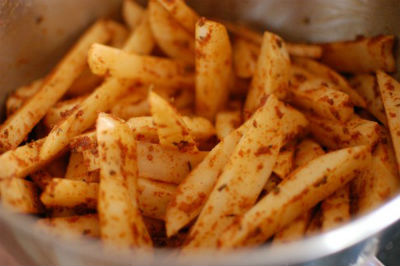 Ingredients:
Potatoes – 6, large, cut into 1/4 inch sticks
Vegetable Oil – 6 tblsp
Salt as per taste
Red Chilli Powder or Paprika Powder – 1/2 tsp (optional)

Method:
1. Transfer the potatoes to a large bowl and pour enough cold water to cover it.
2. Keep aside for 30 to 40 minutes or overnight.
3. Drain the water and pat dry.
4. Add the oil and salt. Toss well to mix.
5. Transfer them to a greased baking tray lined with parchment paper.
6. Place the tray in a preheated oven at 450F.
7. Bake for 40 minutes, turning them every 10 to 12 minutes, until golden and crisp.
8. Remove and serve.
9. Add additional salt and chilli powder if required.