Crunchy, cheesy and simple to make Mexican snack, these are perfect for any time – evening bites, late night munchies, movie snacks.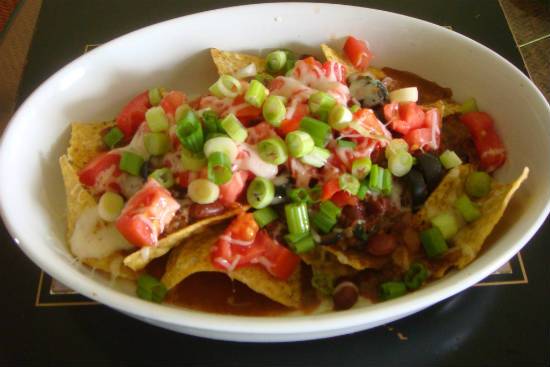 Ingredients:
Tortilla Chips – 1 cup
Salsa – 2 cups (available readymade) (recipe here, here, here)
Black Beans – 2 cups, rinsed, drained
Jalapenos – handful, chopped
Lettuce – big handful, chopped
Tomatoes – 1/2 cup, chopped, seeds removed
Spring Onions – 1/4 cup, chopped, green portion only
Cheddar Cheese as required, shredded
Method:
1. Arrange the tortilla chips in a greased baking pan.
2. Spoon over the salsa and spread evenly.
3. Add the black beans and cheese.
4. Place the pan into a preheated oven at 400F/200C.
5. Cook for 10 minutes or until the cheese has melted.
6. Remove and transfer to a serving bowl.
7. Sprinkle the spring onions, lettuce and tomatoes on top.
8. Serve at once.
Tips:
If cheddar cheese is not available, you can also use readymade cheese slices.
Feel free to experiment with other vegetables too. You can add avocado, red onions, cucumbers & capsicums.